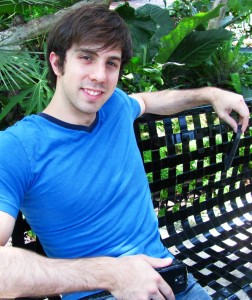 Jonathan Rakestraw, the pastor of GCI's church in Tallahassee, Florida, along with his wife Carolyn request prayer for their oldest child Matthew Rakestraw (see picture) who during a recent visit to his dermatologist was diagnosed with melanoma cancer. Concerning the diagnosis, Carolyn wrote this:
The area affected by the cancer is on his forehead. This is not something new to us. From an early age, doctors told us that Matthew's skin condition could lead to cancer. We do not have a lot of details as to treatment yet, but it likely will involve surgery. Though this is a scary situation, we know we have God's help, and we are, for the most part, able to leave it with Him. God's love has been evident throughout this journey. We very much appreciate and feel your prayers. We know that the final outcome is in God's hands, and for that we are thankful. We know that God's love and goodness are endless.
Matthew, who is a member of his father's GCI congregation, actively serves in youth ministry, including as a staff member at GCI's Florida summer camp.
Cards may be sent to:
Matthew Rakestraw
3946 Elysian Ct.,
Tallahassee FL 32311