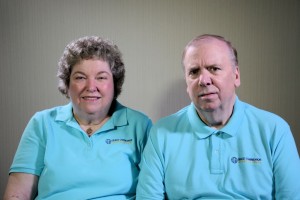 In past issues we've requested prayer for GCI pastor Rick Ridgell and his wife Pam (pictured at right) concerning Rick's prolonged battle with cancer. We were saddened to learn that Rick died recently.
We are grateful that GCI pastor Brian Carlisle was able to be with Rick and Pam during Rick's final few days, offering support, prayer and communion. Pam and Rick celebrated their 27th anniversary on the Friday before Rick's death.
Please join us in praying for Pam, their son Richard and the GCI congregation he pastored in Winchester, Virginia.
Cards may be sent to:
Pam Ridgell
640 Butler Ave.
Winchester, VA 22601