We were saddened to learn of the recent death of Patricia Wilson, mother of GCI Pastor Don Engle and of Susie Dick (wife of former GCI Pastor and Administrator Randal Dick). Here is a note from Don.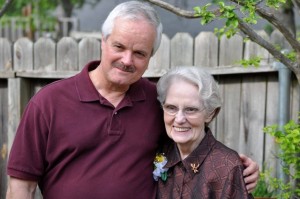 It is with great sadness that I let everyone know that my dear mother Patricia Wilson recently passed away at the age of 85 in a hospice facility in San Antonio, Texas. She died peacefully surrounded by her daughters Susie Dick, Becky Campbell and Janie Yale.
Mom was buried in Fort Worth, Texas, on July 11 next to her sister Cassie. We had a beautiful celebration of her life at a graveside service. I gave a message based on Isaiah the prophet's words of encouragement: "He will swallow up death in victory" (Isaiah 25:8 KJV). Marty Yale, my brother-in-law, sang and played guitar on a beautiful rendition of "Amazing Grace."
We miss our mom dearly, remembering all she meant to her children and grandchildren. We look forward to being with her again.
Cards may be sent to:
Don & Alix Engle
1665 East Kay Street
Derby, Kansas 67037
Susan & Randal Dick
101 Browns Point Blvd NE
Tacoma, WA 98422-2502