On January 30, members of Grace Fellowship, GCI's congregation in Wichita, Kansas, gathered for a "discovery retreat" as part of the Transformational Church (TC) consulting process they are engaged in with TC consultant Greg Williams (shown below addressing the group).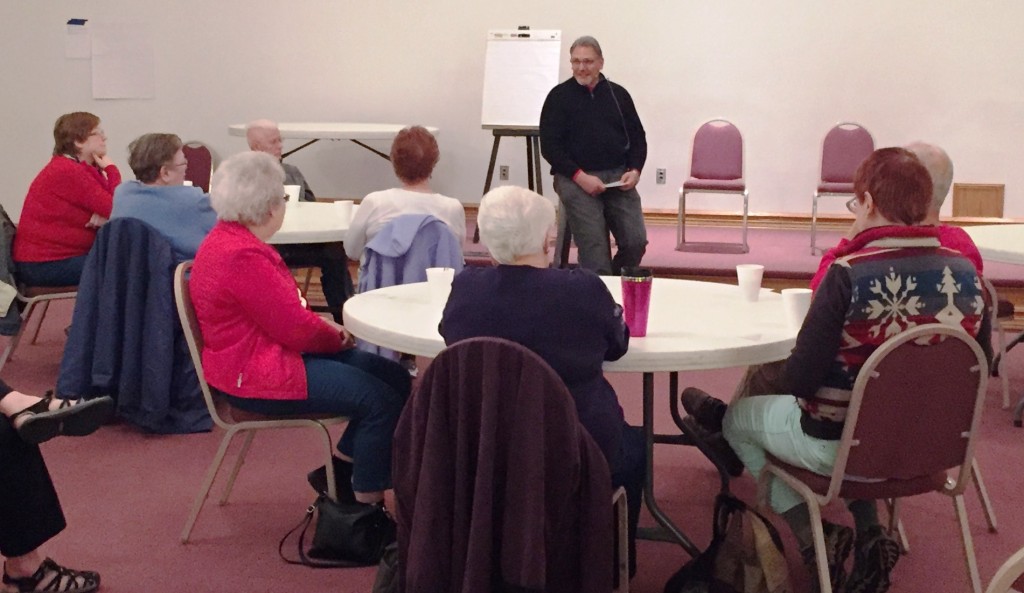 After introductory devotions, the members recorded on cards their recollections of key "transformative" events in the congregation's history. The cards were then posted on a wall by year, creating a history timeline. The value of small groups in their history clearly emerged.
In groups of three to four, members then reflected on each of the seven assessment areas addressed in a previous survey (referred to as the Transformational Assessment Tool, or TCAT, for short). The seven assessment areas (which together create the "transformational loop" shown in the diagram below) are missionary mentality, vibrant leadership, relational intentionality, prayerful dependence, worship, community and mission.
After lunch, each group took one of the assessment areas and developed proposed action steps to address the congregation's strengths and weaknesses in that area. The whole group, with Greg's facilitation, then discussed each of the proposals. Two concepts surfaced from this discussion: the importance of having small groups and the importance of mobilizing to serve the neighborhood where the congregation meets. Regional Pastor Mike Rasmussen (who was present at the retreat), described members as excited and eager to move forward in implementing the action steps. The pastoral and leadership teams will review the proposals to determine priorities, time-lines and budgets.
__________________
For information about GCI's Transformational Church consulting services, which are provided by the GCI-USA Church Administration and Development (CAD) team, click here.