Jim Kissee, Pastor of GCI congregations in Springfield and Joplin, MO, and former Ambassador University professor, has been diagnosed with abdominal cancer and asks for prayer. Here are excerpts of an update from Jim's daughter Janna (Kissee) Jones, a registered nurse (for more details, see Jim's Facebook at www.facebook.com/james.kissee.58.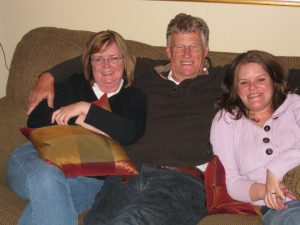 Dad has been diagnosed as having a liposarcoma (cancer) in his abdomen. The surgeon thinks his right kidney and part of his colon will need to be removed. Dad will have a chest scan on November 9 to see if there is cancer in his lungs. He will also see the urologist that day to assess his kidney function. Surgery is scheduled for November 18.
As you can imagine, all this is a bit shocking to us. Dad was a hugely good sport and immediately started talking about needing to walk more so his legs don't get weak prior to surgery. He has done that my whole life—looking to exercise and activity to cope and make things better. The upside is that his surgeon feels surgery will be all that is needed to treat the cancer (no radiation or chemotherapy).
As he heads toward surgery, please pray for Dad's physical strength, for our family's ability to support him, for the guidance of the surgeons brains and hands, and for protection and blessing on Dad.
Cards may be sent to:
Jim and Kaye Kissee
601 N. 36th St
Nixa, MO
65714-7558