Dear Brothers and Sisters,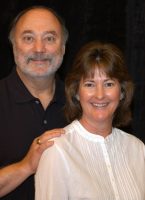 As I travel around the world, I enjoy attending the worship services of our congregations. I've noticed that the worship service bulletins vary widely in length—anywhere from a half-page to 12 pages. More than a couple of pages is probably too long—longer than that and most folks, especially visitors, won't read it all (this comment applies to weekly bulletins, not monthly newsletters).
Church bulletins serve a twofold purpose: 1) they orient those attending to the sequencing of the service, and 2) they introduce the congregation, indicating what it does and thus what it values. One of the things I look for is whether or not the congregation values fulfilling the Great Commission. It's easy to confuse being busy doing "church stuff" with being effective in making disciples.
Speaking of "church stuff," check out this tongue-in-cheek weekly calendar of a fictitious (though perhaps typical) church: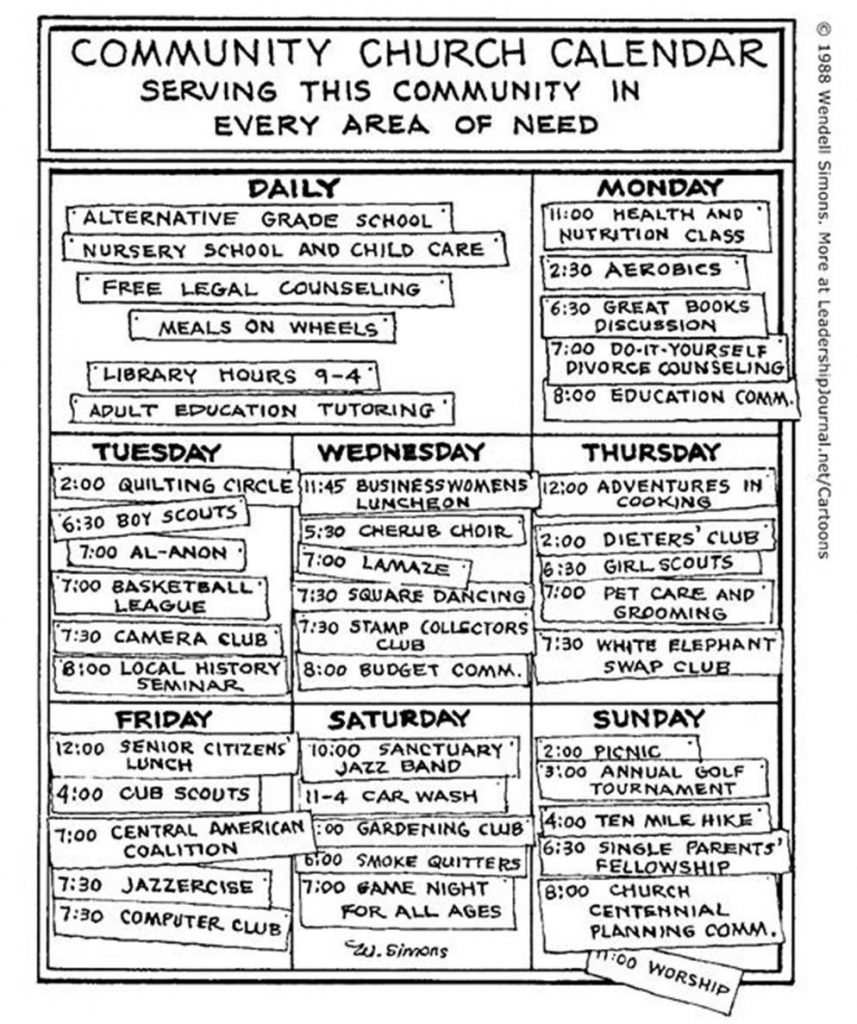 I grant that this illustration is rather extreme, but it makes a point. A busy church is not necessarily effective in following the Spirit to participate in what Jesus is doing to fulfill the Father's mission, which is largely focused on Jesus' Great Commission command to make disciples of all nations (Matt. 28:19-20). Another way to describe this mission is to say that God has called us to know him and to make him known. To fulfill the first part (to know him), effective churches help those already attending to grow in their relationship with God. This growth leads to fulfilling the second part (to make him known), which involves going outside the walls of the church to join God in what he is doing in the community to "bring many sons and daughters to glory." Thus the church, in fulfilling this two-fold mission, meets to enjoy together the God it worships, and then it goes out into the community to share the gospel so that others may be with them in the body of Christ.
Unfortunately, many churches emphasize the first part of this mission to the near-exclusion of the second. But Christ, by his word and Spirit, takes us with him both within the walls of the church and then outside. Yes, our own personal relationship with God through Christ as members of his body is foundational, but that foundation does not exist for itself—God intends that something be built on it. Christ, through the leading, empowering Spirit, sends us into the world to share the gospel with people who are not-yet believers so that they too may become followers (disciples) of Jesus.
Most Christians are familiar with the main part of Jesus' Great Commission address:
"Go and make disciples of all nations, baptizing them in the name of the Father and of the Son and of the Holy Spirit and teaching them to obey everything I have commanded you…" (Matthew 28:19-20a)
When we think about this calling to mission, we can sometimes get discouraged. There are many obstacles and frequent setbacks. But let me give you a word of encouragement: as we go, we don't go alone! Always remember the two "bookends" that surround the Great Commission. Jesus' statement is preceded by these powerful words:
The eleven disciples went to Galilee, to the mountain where Jesus had told them to go. When they saw him, they worshipped him; but some doubted. Then Jesus came to them and said, "All authority in heaven and earth has been given to me." (Matthew 28:16-18)
Wow! Imagine what was going through their minds as Jesus told them that he is in possession of all authority, everywhere! Then with that reassurance, and the authority that goes with it, Jesus commanded his disciples to "make disciples." Then notice the reassuring words that follow that command:
"And surely I am with you always, to the very end of the age." (Matthew 28:20b)
As I noted in a letter last year, these are highly significant bookends! The one who possesses all authority in heaven and on earth will be with us always as we join him in his ongoing disciple-making ministry. Read again Jesus' statement of the Great Commission and see if you can see it as an invitation to join Jesus, the one with all power and authority. Let me paraphrase his statement this way:
Dear friends, as we journey into the mission field together, let us make disciples. Let us baptize them in the name of the Father, the Son and the Holy Spirit, and let us teach them to obey all that I have commanded, especially my new commandment to love others as I have loved you. Oh, and remember, I'll never leave your side, we will be doing this together, so never be discouraged and never give up.
Let us continue gathering together to worship our Lord, and then, as his disciples, let us respond to his invitation to make disciples with him so that others may be incorporated into the body of Christ by baptism in the name of the Triune God. In GCI, our motto is Living and Sharing the Gospel—this is what we do as a denomination and it is what we're called to do as congregations. With that in mind, let me share some points regarding being busy doing "church stuff" vs being actively at work fulfilling the Great Commission:
Help your members, those already growing in Christ, see the fullness of their calling to participate in the full sweep of the mission of God. Ask them for their input on what your congregation (no matter its size) can do to participate in Jesus' great invitation. Identify its giftedness for doing so. Your Regional Pastor is happy to help.
Examine everything your congregation is doing to see whether or not it serves the calling of the church to participate in fulfilling the Great Commission. It's easy to fall into the trap of busyness, which can give the false impression of effectiveness.
Develop a plan with others to spin off ministries and activities that are not contributing to a Great Commission focus. Be wise and gentle in doing so—you may be dealing with activities that people have invested a lot into and that God has used in some way.
Without neglecting helping existing members grow in knowing God, lead them to focus on making God known to not-yet believers. A good way to do that is to implement on one or two "outside the walls" programs (activities/events) and then do them well (see Jacksonville Outreach in this issue for ideas). Better to do a few things well than many things poorly and perhaps burning out your members in the process.
I'm delighted that many of our congregations are doing great missional work both inside and outside the walls of the church. They have identified their giftedness, they have asked God to clarify their vision and mission, and they are participating with Jesus in his disciple-making ministry. As a result, many are growing. You will hear some of their stories at We Are GCI!—our Denominational Conference coming to Orlando in August.
Valuing mission over busyness with "church stuff,"
Joseph Tkach
PS: Are you a good singer? If so, you may be interested in participating in a choir we're assembling to perform at our Denominational Conference in Orlando in August. For information, click here.