GCI-Australia pastors Rod Dean and Mark Latham recently returned from a visit to our brothers and sisters in Papua New Guinea (PNG). What follows is Rod's report.
The trip to PNG took months to prepare to maximize the time there while allowing for the unexpected. Our trip was interrupted by a political demonstration and after arriving we expreienced a severe earthquake. Despite these disruptions, it was a wonderful trip.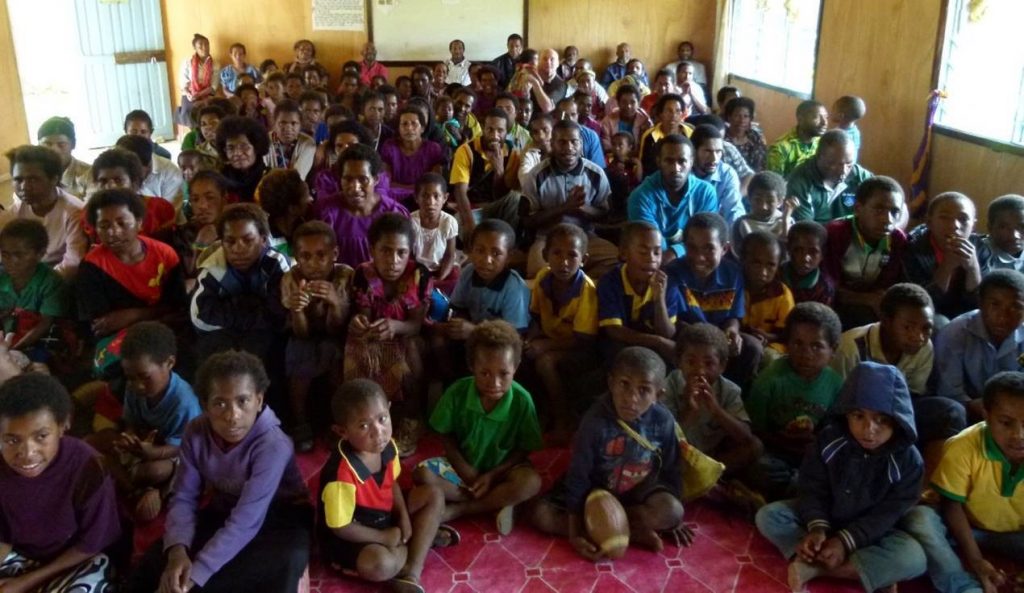 Our biggest emphasis this trip was youth and children who make up the majority of the Mt. Wilhelm congregation (pictured above). For the growing number of youth, we introduced our first speaking club (Life Club) with 35 teens and five adults attending. The club is part of an effort to motivate our youth to improve their English and think about their future. This program accompanies our ministry at the high school, youth meetings and talent shows.
The children's class has been challenging. We have around 70 children on our rolls, and the coordinators and teachers have decided that we need to raise the standards, especially as children approach the age of our study center. We put together a curriculum for the rest of the year and held a meeting with middle school (grades 6-8) parents to encourage them to learn English and read with their children. At present, the middle school has 150 students up to grade 3 and they will be adding a new grade every year, perhaps up to grade 8. Of the 150 students about 80 are disadvantaged and 20 are orphans living on site. There are still clothing needs for the disadvantaged children, and the school is $25 a day short of nutritional food. We plan to bring a supply of clothing on our next visit and the focus of our Ulladulla Charity Appeal will be on the school's food needs.
I spent the remainder of the trip with the congregation's leaders and worship team, giving an ACCM preaching intensive, a worship intensive, and a talk on how to approach the Bible. I also introduced reading materials I brought with me, among them, GCI's Discipleship Series, sermon notes, and Speaking of Life transcripts. Lastly, we had the annual pastoral advisory council meeting in which we shared the importance of accountability. We audited the books and encouraged appropriate counting and storage of money. While I met with the pastoral team, Mark coordinated various work projects, which necessitated walking over the mountain range about five times! Mt Wilhelm now has running water for the showers and flush toilets in the orphanage.
Mark and I are very aware that we were accompanied on the trip by the prayers of the church. I told the church in PNG that we do not come alone. So many people contributed in different ways to the trip—we are truly grateful for their support.