Leslie Asare-Akoto reports on a youth retreat held at GCI's Kumasi church in Ghana, Africa.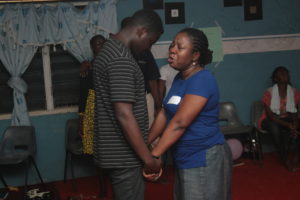 With the theme, "2018, our year of involvement," our retreat in February brought together youth from the Kumasi, Kutunse, Ashongman and Baatsonaa congregations, along with some students from Accra. The beginning worship led by the Kumasi youth was followed by workshops on relationships, music, maximizing potential as a youth, financial habits and peer influence. There also were team building exercises that involved both young and old.
In a talk on grace and spiritual gifts, the youth were encouraged to use their gifts to help their congregations grow ("When all hands are on deck, the ship will sail!"). A prayer session after dinner had participants overflowing with joy, singing songs of praise, and offering prayers. The retreat ended with a church service on Sunday. The youth and church leaders were all excited about the retreat and look forward to the next one, which will be held in the Volta region. Thanks to all who prayed and helped in various ways to make this retreat a success.