Grace Communion International Netherlands and Flanders are going "outside the walls".
Jesus is doing something wonderful in Tiel! Under the inspiration of the Holy Spirit, there is a desire among Christians in Tiel to set up an outreach project together. A building has been bought from which various Christian ministries can be a blessing for the inhabitants of Tiel. This building is a former elementary school, with 30 rooms, and is now known as Christian Center TOV.
Grace Communion International is also active in this enterprise. GCI participates with 4 rooms in the TOV Christian Center in Tiel; a storage room, an office space for our board and ministry meetings, a counseling room and a living room for small group use and worship rehearsals. Grace Communion Netherlands co-invested in the building, and also brings in volunteers to join in with the activities.
In Christian Center TOV we work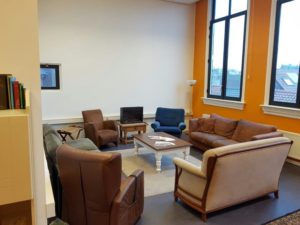 together with local churches and the TOV Foundation to fight poverty in Tiel. There is a small supermarket where the poor get to choose their weekly groceries for free. Weekly several dozens of shopping bags are filled for them. Twice a week free meals are cooked in the restaurant, which about 30 to 40 people attend. This ministry started in 2015 and quickly grew. In 2016 and 2017 alone 2600 grocery bags and 6500 free meals were handed out, plus 1500 takeaway meals. With the new building and more volunteers, this ministry is expanding.
Several members from our local GCI church "de Hoeksteen" (Cornerstone) are involved in different ways. Berdien Kreuger and her father Martin Hessel rent a room with their business to help people with debts, and her sister Judith Dalm works there as well. Renée Blom works in TOV as a paid activity supervisor for people with a mental disability.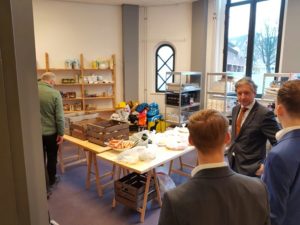 Maarten de Moei works as a full-time volunteer as caretaker of the building, counselor, activity supervisor, and board member. Because of these jobs, he lives in the Center. Ferry Heeren is part of TOV's worship team, Denise de Moei is involved in the Christian bookshop, supports the counseling team and is a board member, and Hans de Moei helps with public relations and finances, and is part of the Supervisory Board of TOV together with a Reformed pastor.
Other activities involve a gym, painting classes, church services, prayer meetings, supervising people with government-mandated community service, and a restaurant where people can walk in during the day for a cup of coffee, tea and/or lunch in which you pay according to what you can afford. All facilitators are Christian.
TOV is financed by gifts and donations, by renting out spaces and from the income they receive for working with their clients with mental disabilities. The directors of TOV do not receive a salary and neither do the volunteers.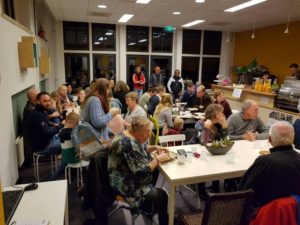 On 11 and 12 January 2019, our Christian Center was officially opened with an all-day walk in and an interdenominational worship service. This meeting was attended by about 120 people from all kinds of churches, and the Holy Spirit was reverberating present with sparks of enthusiasm being felt in the service. God shows that he can still work miracles together with his church and that as believers confess the name of Jesus and work together great things can happen! The common factor to work together as different churches to make Christ known in Tiel and surrounding areas is godly love, not programs in itself.
We look forward with much positive anticipation, trusting God in what he will do with TOV and Grace Communion for the good of the community of Tiel.