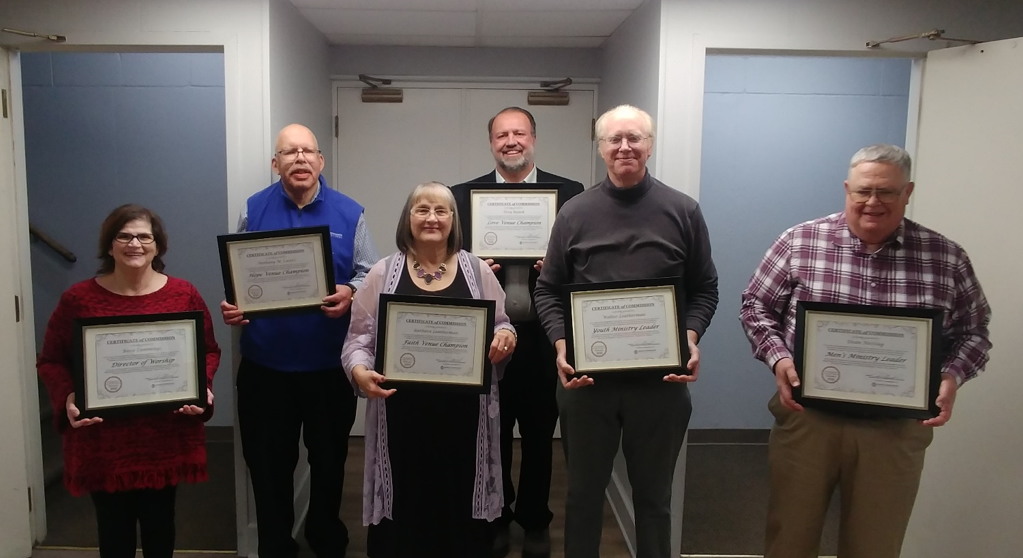 On February 23, Living Grace Fellowship in Kansas City, Missouri had the privilege of commissioning six servant leaders into ministry service in a special worship service centered around reflecting the servant leadership of Jesus.,
Anthony M. Castro, Barbara Leatherman and Troy Roark were commissioned into service as our Hope, Faith, and Love Venue Champions, respectively, along with Walter Leatherman (Youth Ministry), Dean Hesting (Men's Ministry) and Rosie Cummings (Worship Director). Rosie began attending over a year ago as a result of our congregation's neighborhood engagement efforts. She is very excited to answer this calling in her life.
We also took a moment to recognize our Advisory Council, bringing them before the congregation to show who they are and explain their roles. We introduced a newly appointed member of the council, Leila Ross, one of our amazing teens, who was very excited to be included in this team.
This time of celebration was followed by our annual Chili Cook-Off and fellowship meal, which showcased five delicious entries. It was won by Susie Cunningham, sister of our new Men's Ministry leader, Dean Hesting.