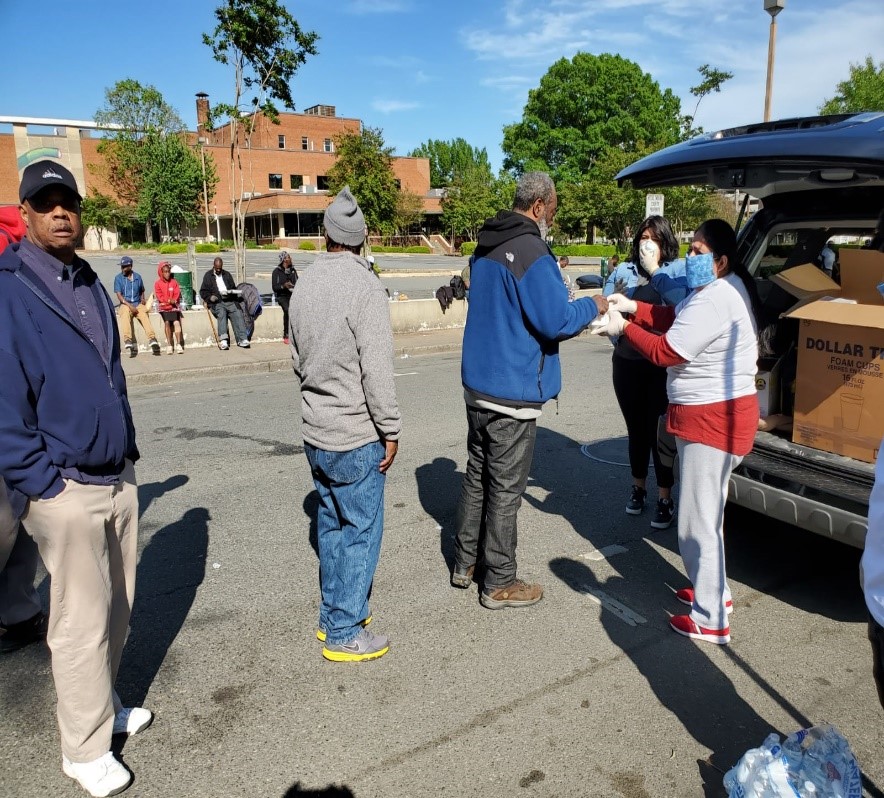 Charlotte, North Carolina – Pastor Tracy Winborne
Our first responders, John, Claudia and Ashley are providing meals and snacks to over 200 homeless people on College St. One would think they are imagining a scene from a horror story right in our backyard. Hundreds of people are living in tents and without much-needed resources. Our mission is God's mission: to witness the gospel and with limited words act by showing love. These members of Grace Communion Charlotte are taking precautions and experiencing a joy inexpressible. This is an ongoing activity for Grace Communion Charlotte. We provided funds to support our homeless and will do so every Wednesday as long as it takes or until funds are unavailable. And even then, we can hold their hands. Ashley, 19 years old, is passing out scriptures to the homeless and sharing the gospel message. We are proud of their missional DNA and know good things will come from the love poured into the community.
---
Houston, Texas – Pastor Mark Mounts
We in Houston pray that all are coping with this incredible reality that we and the world are facing. All of Houston and the surrounding counties are under directives to "stay at home." The exceptions are the usual service providers and medical staff that keep us all going. We have gone to a virtual worship format and we have also been communicating through Facebook. We are very spread out and most of our members are older and would be considered in the "high risk" category. I called one of our members who has limited mobility and he reported that his neighbors are buying him food and making sure he's got all that he needs. He became a widower a little over a year ago. This is our prayer: Most loving God, thank you for moving the hearts and minds of those to let your light shine; even in the most troubled of times.
---
Waltham, Massachusetts – Pastor Dishon Mills
The COVID-19 crisis is not good. We pray for those families around the world who have lost loved ones to this terrible disease, as well as those who are currently sick. At the same time, we serve a God who can make good things come out of bad situations. Moving our Sunday meeting and small groups to ZOOM has dramatically increased our reach. We have attracted at least one new person each week for the past three weeks. Our attendance is up 25% and our web traffic is up over 200% since the crisis began. COVID-19 has forced us to focus on relationships, which is what the church should be doing anyway. Perhaps we are in the midst of a virtual revival?
---
Big Sandy, Texas – Pastor Jerome Ellard
One way we are remaining together is by phone: my wife Helen and I, and two other elder couples have divided up the congregation so that we can contact every member at least once during the week, encouraging them and asking if they need any help. We are still the body, even when we can't physically be together. I've also started a "virtual prayer meeting." Several of us used to meet at church on Tuesday evenings for a time of intercessory prayer. I'm now sending out a prayer list to all our members that have email, asking them to pray in their homes on Tuesday evening or at any other time during the week, adding other things they know about to their prayers. I send my Sunday message summaries to the local paper. I'm looking at other ways that we can continue to share the hope we have in Jesus through his word. We are asking everyone to keep up with each other and we look forward to being able to be together again soon!