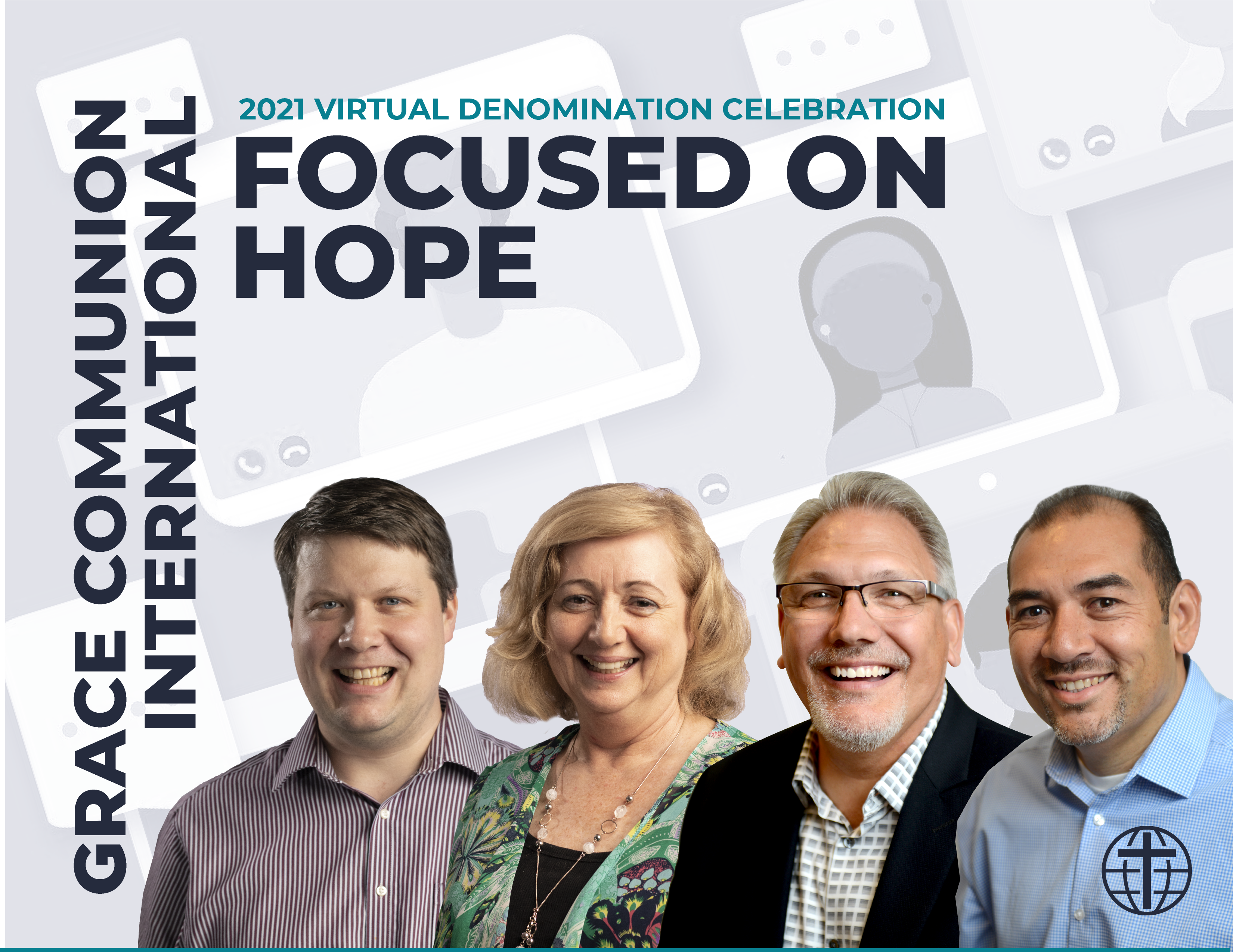 From July 23-25, 2021, GCI hosted our first Virtual Denominational Celebration. If you've been in GCI for a long time, you are familiar with our International Conferences, held every three years in person. We rebranded the name of these gatherings to "Denominational Celebration" because we believe it reflects the overall tone of the event better than the corporate term "conference." After experiencing our Denominational Celebration this year, I believe this rebranding was quite fitting.
After postponing the in-person Celebration from 2020 to 2021, GCI leadership was again faced with the fact that the world wouldn't be "opened back up" yet due to the lingering nature of the Covid-19 virus, especially on a global scale. In March 2021, GCI leadership made decided to hold our Denominational Celebration virtually.
This historic change meant more planning, learning and growing to accommodate our new platforms within just a few months. This required great teamwork to accomplish – GCI teams, from Media and the Home Office, as well as our Superintendents and their regional teams, all pulled together and supported each other through many brainstorming sessions, planning meetings, practice zoom calls, teaching webinars, and trial and error practices. I imagine this experience has strengthened many of your own congregation's teams as well, since many of our pastors and their avenue teams banded together to practice, plan and set up for their watch parties.

The Virtual Celebration consisted of a series of main sessions, featuring GCI Superintendents from each of our regions around the world. In these sessions the Superintendents cast a vision for Healthy Church in their region, sharing stories of Healthy Church, particularly focused on the Hope Avenue, since our theme this year was "Focused on Hope."
GCI members from around the world joined these live Zoom sessions, enjoying messages of Healthy Church and unity from our churches around the world. We had 909 individual registrations and 72 watch parties. Seeing the number of members who gave their time to participate was very encouraging for our Home Office team working the event. The total number of connections (each connection may have had several viewers) for each session are as follows:
Friday, Main Sessions– 584
Family Feud – 74
Saturday, Main Sessions – 566
Sunday Worship – 1267 (now posted on our website and Facebook)
Sunday Panel – 489
Thank you to all who registered and participated in the Celebration! We were so impressed by these numbers and encouraged to hear that many members who were unable to join are eager to watch later when the recorded sessions are provided online. Another encouraging aspect of the Celebration was member participation and sharing through social media posts and comments.
We asked you to tag us on Facebook with #GCI2021hope so we could find and share your Celebration thoughts and content. Below are some of the posts, comments and photos shared by fellow GCI members participating in their homes and watch parties around the world!
By Charlotte Rakestraw, Social Media & Graphics Coordinator & Editor, GCI Update
---

On the 2021 GCI Denominational Celebration Facebook Group we asked, "What did you most enjoy from the first main session?" Here are some of the comments:
Jen Gregory (Grove City, Ohio) – We loved Captain GCI!!
Wandalyn Tekoa Taylor-Jones (Ladson, South Carolina) – I loved the praise and worship!
Glen Weber (Aurora, Colorado) – Very inspiring to participate in Communion after having been in a breakout group with leaders from US, Ghana and Philippines!! People from nations around the world participating in unity over the Lord's Table!!!
Linda Lee Sitterley (Eugene, Oregon) – Our Watch Party enjoyed Captain GCI. Also enjoyed the worship. The workshops opened up a great discussion that will only better our Hope Avenue.
Rommel Madriaga (Los Angeles, California) – My 13 year old and I loved the kids portion! You ARRRrR Grrreat Captain GCI!
Yuvetta Robinson (Pasadena, California) – I loved the opening music songs and Communion by Mrs. Williams and what was said there will be no more racial injustice.
Allison Bailey (Ft. Pierce, Florida) – I enjoy renewing the connections and relationships we have. One member of my breakout group was an old friend I haven't seen in years.
Elizabeth Wharton (Tallahassee, Florida) – It was good to see two of the young adults who grew up in our local congregation working behind the scenes. Charlotte Rakestraw and her brother Andrew Rakestraw.
Maryann Pirog Stevens (Arcadia, California) – Thank you Henderson family! Fraser, Gavin & James, your presentations were so inspiring! Thank you!
Justine Paolo Parcasio (Baguio City, Philippines)- So blessed to have Dr. Greg Williams (GCI President) and wife Susan lead us in Communion to start the virtual denominational conference. *We are doing this all together at the same time in different locations and time zones from all around the world!
Jerome Ellard (Big Sandy, Texas)- Very unifying to [take Communion] as a church family around the world at the same time!
Bill Harring (Columbia, South Carolina) – [This celebration has been] a powerful reminder that we truly are International in scope, with a love that crosses all oceans and borders, and united in our love of Father, Son, Holy Spirit and one another. Thank you for the team effort on day one!
This year, because of the virtual nature of our Celebration, we encouraged watch parties as a way for connect groups from congregations large or small to gather together for the Celebration, watching the main sessions as a group and then facilitating their own discussions and activities during breaks. Here's what some of our watch parties had to say:
Grace Communion Hanover, Virginia – 2021 Focused on Hope watch party at GC Hanover. Mechanicsville, VA We are grateful for Dr. Williams, Jeff Broadnax and all the Home Office staff that put together such a wonderful virtual experience for us. May the blessed Trinity continue to build us up as an International Movement of Grace. We are GCI.
Grace Communion – South Kansas City, Missouri – Although most of us are at work today, we are enjoying our GCI family reunion in the new normal. It's still a blessing to come together anyway we can! Hearing stories of hope in our congregations around the world.
Grace Communion Fellowship – Portland, Oregon:

"I find this encouraging and inspirational. The Spirit of hope and love through Jesus Christ our Lord is working in wonderful ways to expand His Kingdom around the world. May God continue to bless each of our GCI leaders as they pursue His will." – Patsy Payne
"The reports from around the world are wonderful!" – Jim Harries
"Thank you to our GCI Home Office staff for making this possible. It is an exercise in unity, fellowship, and love." – Dee Bulante

GCI Home Office – Charlotte, North Carolina:

The home office staff (except members in current live sessions) enjoyed the watch party alongside each of you! – Charlotte Rakestraw

JoAnn Affeldt Lagge – Sioux Falls, South Dakota:

Our church in Sioux Falls, South Dakota is watching together!

Mary Ruth Nieves – Piura-Peru:

Happy and excited to participate in our Grace Communion International-GCI Seminar from the Comunión de Gracia Piura-Peru watch party. We are Focused on Hope!

Jerome Ellard – Big Sandy, Texas:

Patty, Becky, Maggie and everyone else in Big Sandy, Texas were blessed to participate in the GCI Denominational Celebration today!

Jen Gregory – Grove City, Ohio

I got to church early yesterday to get everything set up [for our watch party]. Around 10:15 I fired up the computer but there was no internet connection. After troubleshooting everything I could, I called the cable company. A woman named Precious got us back up and running at 11:52…just in time for the watch party. God used something Precious to help us again!
Sunday morning we asked GCI participants, "With the Celebration coming to a close take the time to share a little about what inspired or encouraged you the most." These were your thoughts:
Carrie Osborne (Chillicothe, Ohio) – Wonderful start for our virtual fellowship and amazing job by our Media department!
Margaret Musekwa (Riviera, South Africa) – Our hope is in Jesus and his coming kingdom of righteousness, peace and joy! Hallelujah.
Steve Posiak (Kelowna British Columbia, Canada) – Beautiful message that truly gives hope to the world. Not men ruling over cities but the true love of God filling every heart and soul. I can hardly wait!
David Orth (San Antonio, Texas) – Great conference. Harmony and unity around the world. Christ centered focus on hope – faith – love. Love seeing the children involved. Prayers and blessings to all. May God give peace and comfort to all!
Virgilio Alvaran (Concord, Ontario, Canada) – I am glad to have joined the few of the 107 billion people who lived since Adam (collectively our brothers and sisters) who were united in today's GCI service, with our members from six continents. In the 1970s, only the Philippine Regional Director & spouse attended the annual Ministerial Conferences. I believe most members and elders from countries other than the Western Hemisphere could not afford the travel costs. In the 1980s, one or two preaching elders (and spouses) — not the same couples each year — were able to join. Thank you GCI leaders and staff for enabling us all over the world to join this year's HOPE Celebration with little or no costs.
Justine Paolo Parcasio (Baguio City, Philippines) – I am blessed to know that I am not alone, that I have a global family/community journeying with me! And this 3-day conference is a tangible expression of that!
Ceeja Malmkar (Surrey Hills, Oklahoma) – Our Media crew is AMAZING! They are working hard and are blowing me away with their amazing talents and joy-filled and humble hearts. I cannot imagine how difficult and stressful this task is, yet experiencing it behind the scenes is incredible to watch! They are all beaming with joy. It's inspiring. GCI Media Team, we are SO thankful for you!
Wandalyn Tekoa Taylor-Jones (Ladson, South Carolina) – [I was inspired by] the children's messages of hope! From the mouths of babes. When discussing the children's message on Friday with my granddaughterthe first thing she said was "We put our trust and hope in Jesus".
Ceeja Malmkar (Surrey Hills, Oklahoma) – WOW! Grace Communion Philippines you guys were AMAZING! I was dancing and singing and enjoying myself thoroughly! Thank you for your hard work and creativity! We love you!
Beth Leyva (Quezon City, Philippines) – Worshipping with my GCI family all over the globe! Here's a playlist of the songs Dr. Greg Williams mentioned earlier https://spoti.fi/3rvJFFK – it's collaborative, please feel free to add the songs I missed!
Linda Knight (Ontario, Canada) – What encouraged me the most is the message that God is not finished with GCI yet. I have always been encouraged by the fact that GCI emerged from chaos way back in 1995 and the willingness to accept change. Considering our history as a denomination, and our tradition of embracing change, our triune God certainly can use that willingness now and into the future.
Linda Lee Sitterley (Eugene, Oregon) – It was inspiring to be able to worship and take Communion with so many other GCI members from around the globe. The message from Greg Williams was spot on. Totally enjoyed the last session with everyone sharing their thoughts and feedback. From beginning to end the Celebration was a success!
Sarah Strub (Big Sandy, Texas) – I loved the songs in Sunday's worship service. To me, the words showed God's tender love for our denomination and summarized our journey from the 50's, on into eternity! It was [also] a great experience to produce the Hope Avenue Champion workshops. It's exciting that we have a part in helping other churches develop great worship services!
Fred Legg (Melbourne, Florida) – It was nice to SEE the work, and those in the field, doing the work. It truly is a worldwide work. Inspiring. Love all the smiling faces from around the world.
Ceeja Malmkar (Surrey Hills, Oklahoma) – I want to say how proud I am to be a part of GCI. A HUGE thank you to our amazing Home Office staff and media team for saying YES to this. The easy thing would have been to postpone. Instead, they practiced everything they have preached throughout the pandemic. They put so much time, effort, energy, and sacrifice into creating this phenomenal global worship experience for all of us to enjoy together. From the bottom of my heart, I appreciate all of you very much. I couldn't imagine not having this experience. I am humbled. I am inspired. I am excited to be part of something so special. I see you, Jesus. We are GCI!
Susanna Martinez (Lancaster, California) – So inspiring to hear how God has been opening doors for new avenues of ministry during the pandemic, all around the world. The kids loved the children's church segments and I am now challenged to incorporate this in our local virtual services! Our entire congregation was able to register and participate in the various sessions individually, and everyone has been inspired by all the stories and seeing they're part of a global fellowship of believers! Thank you GCI staff and media teams, all the speakers and ministers who gave of their time, talents, and energies to put on the first GCI virtual Celebration!!
Carolyn Rakestraw (Tallahassee, Florida) – Thank you GCI Philippines for the wonderful children's sermon and thank you Dr. Eugene Guzon for the many stories of hope from across Asia that you shared with us. I love that our Asian brothers and sisters embrace diversity as a gift…what a blessing!
José Santos Ribeiro (Azambuja, Portugal) – Fantastic Conference! Proud to be part of our worldwide community of believers. The best is yet to come. Also a BIG thank you to all our friends at the Home Office for making this possible. Wonderful updates from the Superintendents/ministers from around the globe – we hold you up in prayer and learn much from you!
Linda Lee Sitterley (Eugene, Oregon) – We had a wonderful turnout for [Sunday] service. Wonderful to see our very own Hadley up on screen sharing where her hope lies. Thanks to everyone who made all of this possible.
Theo Nii Okai (Buduburum, Ghana) – Awesome discussions. We indeed are an international family. Looking forward to the future with HOPE.
Jesse Korver (Culemborg, Netherlands) – Enjoyed it so much. We are a really inclusive denomination as we hear about the plans and thoughts of the Home Office. Thank you all for sharing this to us worldwide.
Hlali Msiza (Riviera, South Africa) – Greetings to the worldwide GCI family from South Africa in Africa. Nkosi sikelela iAfrica!
Elvis Shumi Masindi (Bela Bela, Limpopo, South Africa) – [This celebration was a space] where I just feel blessed in everything. God bless.
Rachel Parker (Australia) – With the main sessions being in the wee small hours for us in Australia, I am really looking forward to catching up with all the recorded sessions when they are available! And based on everyone's comments, it should be amazing!!! (I'm going to start with Family Feud, since the recording link has been sent already!) Thank you so much to everyone involved.
Debby Bailey (Pikeville, Kentucky) – Our church family in Pikeville participating in the service today. So thankful for the technology that made it possible.
Wandalyn Tekoa Taylor-Jones (Ladson, South Carolina) – It has been great hearing the stories about GCI churches around the world. I believe one of the Superintendents said it best when he said that no matter where you go, you will find that the members truly love God and they love each other. I love how even though we are virtual, there was something for everyone including the children.
Rubén Ramírez Monteclaro (Córdoba, Veracruz, Mexico) – Thank you Brother Greg for such an inspiring sermon. Blessings. A great future awaits us with Jesus one step forward at a time.
Eric Larison (Syracuse, New York) – Grace Communion of CNY is ready for the worship service on this the 51st anniversary of the start of our congregation on July 25, 1970.
Debbie Wood (Big Sandy, Texas) – It felt like a Homecoming driving from Tyler, TX to Big Sandy, TX to join our Grace Communion International church family and share the virtual denominational celebration with them. I graduated from Ambassador University in Big Sandy and finished my 20 year career with the University in Big Sandy when it closed in 1997. This group are true servants and they always serve FOOD!
Mary Ruth Nieves (Piura, Peru) – Thank you Michelle Fleming and all the GCI Media team working for the Conference. It's a joy to enjoy the whole event. It's wonderful to see that light of hope that children reflect. The seed is sown and the Lord Jesus and His Holy Spirit works already in their lives.
Allison Bailey (Ft. Pierce, Florida) – From the tapestry of singers in worship, to the children sharing their hope, to the uplifting message and our unity in taking Communion together… and seeing new faces and old friends on Zoom… Praise God for a beautiful worship service that touched my heart and helped me feel so connected to the GCI family as I participated alone from home.
Pedro Rufian Mesa (Spain) – Great Celebration Greg! A very inspiring overview of what God is doing in our communion worldwide and the transformation it is going through to be more like the church Jesus showed we need to be in Ephesians 4:1-16. Thanks to every Superintendent, Regional Director and everyone involved who made it possible. And most of all thank you to our Lord Jesus in the Spirit as He guides us into new avenues to be more effective in living and sharing the good news God the Father gave to every human being in Jesus. We in Comunión Internacional de la Gracia-España pray for you all and ask Jesus Christ's unending faith, hope and love be with you all forever! We love you all!