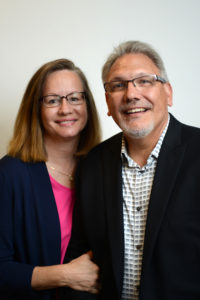 Dear GCI Family and Friends,
The most succinct statement about God in the Bible is found in 1 John 4:8 – God is love. He is the source and Jesus is the perfect human expression.
My daughter-in-law, Crystal, is a teacher. She has been an educator for 13 years in various positions, ranging from a kindergarten teacher, creator of a literacy program, to an Early Childhood Consultant. After consulting for the past five years, she is back in the classroom teaching kindergarten.
Crystal has recently taken a job teaching kindergarten in a private church-operated school. During orientation Crystal became uneasy with the philosophy for managing the students. There was a strong emphasis on behavioral control with the use of the "stoplight behavior system." The stoplight approach uses the red, yellow and green light as a visual to assist a child in knowing how well their behavioral performance is going throughout the day. Every child starts a new day fresh on "green," which is positive. However, throughout the day, if expectations are not met, a child could move from "green" to "yellow," and then "red" if behaviors persist. Most teachers have this behavior-control system openly displayed for the class to see, so everyone knows the behavioral status of each student in the class. It is a shameful experience to send a child to change their stoplight color in front of their classmates.
Setting behavior boundaries and responsibilities for children is useful and needed, but modeling grace is pro-actively teaching children to focus their behavior on being Christ-like versus performance-based. Teaching children love, joy, kindness, and patience, as adults express grace while still setting boundaries, creates deeper love and trust. Performance-focused behavioral systems teach children that love and trust are conditional. It teaches they will be rewarded with the materials and accolades of this world instead of discovering the strength and power of the love God has for us, and that we should have for ourselves and others. The stance by the school to use the stoplight behavioral system seemed to be at odds with the core fabric of who God is and created quite a conundrum for Crystal. The school was projecting that love is tied to conditions, but Crystal's desire for the children is for them to know and experience the unconditional love of Jesus.
In essence, the Christian school would be telling these five-year old precious boys and girls that their behavior was most important. If somehow they behaved well enough, then they could experience belonging in the community atmosphere of the class. This is the classic message that comes from many Christian groups: Behave as a Christian, believe as a Christian, and only then can you belong as a Christian in a Christian community. Performance gets you in.
I believe it was the Holy Spirit who alerted Crystal's senses to the issue of making behavior the primary concern. Shortly after the school year started, Crystal and Glenn attended a church service and were greatly encouraged by a sermon message. The pastor spoke profoundly about conditional love versus grace and eternal love. He spoke about the need to teach grace and love to our children through our discipline. Grace isn't the absence of discipline—rather, it is the act of understanding and applying love. Yes, we want our children to behave appropriately, but more importantly, even when they don't, we want them to be shown love through the extension of Christ-like grace. In turn, they will learn to extend grace and love to others. The application of grace and love requires more time and effort than asking a child to walk to the front of the classroom and change the color of their stoplight. Applied grace and love means acknowledging the child, listening to the child, discovering what is motivating the child, having a meaningful conversation with the child, and mutually agreeing to better forms of action (enveloped in love and belonging). These steps take time and patience, and they imply a relationship where the child is seen and heard. (Isn't that what love looks like?) Crystal left that church service feeling relief from the philosophical turmoil about where the church stands on the matters of grace and love.
The apostle John continues developing his thoughts about God and love in 1 John 4:19 – "Because he [Jesus] first loved us," we already belong. Did you hear that? We belong because of Jesus! Jesus died for all, and because we are all under his atoning, spilled blood, we belong before we ever believe or behave correctly. It is the safety and assurance of belonging that frees us to explore more about this loving God who became flesh and died in our place. It is the believing that smooths the path for receiving the marvelous, free gift of grace that is offered only through Jesus. Then as believers in daily active relationship with Jesus responding and participating through the power of the Spirit, we are continuing to be transformed into his likeness, becoming more like him. So, the flow of "Belong, Believe, Become," is more in alignment with who we see Jesus to be in Scripture and how he relates to his children (kindergarteners and all other age groups).
Just as Crystal is teaching and guiding her beloved students, we as Christ-followers in GCI are also compelled by the love of God to view and treat our neighbors with the unconditional love we have received. We are compelled, driven and motivated to treat the folks around us with value, respect and godly love. We too can acknowledge, listen more intently, and discover more about our neighbors. (For those want to explore more about this, I recommend the book Surprise the World, by Michael Frost).
The apostle John outlines it so well in his writings.
Beloved, let us love one another, for love is from God, and whoever loves has been born of God and knows God. Anyone who does not love does not know God, because God is love. In this the love of God was made manifest among us, that God sent his only Son into the world, so that we might live through him. In this is love, not that we have loved God but that he loved us and sent his Son to be the propitiation for our sins. Beloved, if God so loved us, we also ought to love one another. No one has ever seen God; if we love one another, God abides in us and his love is perfected in us. (1 John 4:7-12 ESV)
My beloved (my dear friends, my darlings), focus on how much you are loved. It is this "love received" that in turn can be freely given to others. It is because God has loved us so well and perfectly through Jesus that we now can love others.
"Compelled by Love" is GCI's theme for 2022. There is much more to come, so please embrace this season of Christ's birth along with our beloved brothers and sisters around the world and let's observe how Jesus transforms us and our neighbors in the coming New Year.
Abundant and Flowing Love,
Greg
P.S. I am proud to have Crystal as my daughter-in-law and thrilled that my grandchildren (Emory and Everett) get to grow up in a home where the unconditional love of Jesus is so palpable.
Footnote:
Dear Church, in my previous video update speaking about Saint Nicholas and the Christmas season I made a reference to the "Immaculate Conception." Please understand that I was only referencing the understanding that Mary was "overshadowed" by the Holy Spirt and became impregnated with the Lord Jesus and gave birth to our Savior (and remained human).
It was not my intention to make this reference in the context of Catholic doctrine. It is not our belief in GCI that Mary was free of original sin nor is she the intercessor between humanity and Christ.
Please accept my apology for using this term and creating any confusion.