Below is a prayer request for Celestine "Cella" Olive. Cella is a current GCI Board member, pastoral team member in Lancaster, CA, U.S., and a retired employee.
---
I've been dealing with a challenging season of pain and spasms in my neck, arms, and shoulders, with a very painful right hand. I haven't been able to play my keyboard for the past year because of the pain.
After pursuing relief through herbal supplements, chiropractic, physical therapy, an epidural injection in my neck and acupuncture, all to circumvent the need for surgical intervention, the condition worsens. The problem turned out to be spinal disc damage.
The neurosurgeon and I are convinced that a surgical removal and fusion of the C3-4 spinal disc is needed. The procedure will be: Anterior cervical discectomy with fusion, or ACDF, a surgery designed to relieve spinal cord or nerve root pressure in the neck by removing all or part of a damaged disc. It is scheduled for Thursday, April 21st.
I would appreciate your prayers, and I'm trusting and having faith in God for complete healing of the area and restoring the use of my right hand.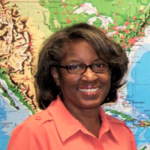 Love and blessings to all,
Cella