Below is a prayer request for Santiago Lange, GCI pastor in Stuttgart, Germany.
---
A medical check-up has revealed that I have an advanced colon cancer. Unfortunately, the CAT scan showed that the cancer has also spread to the liver and lungs. At this time there will be no tumor removal operations. An access port for infusion has been placed via a surgical procedure. My next appointment is on May 2, at which time a treatment plan will hopefully be established.
Certain is that I will be facing a major uphill battle in the time to come. Please pray that my 24/7 pains will become less intense and, that according to God's wisdom and grace, I will find healing. Also, please remember Elke, my wife.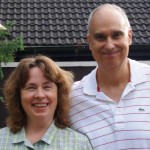 Trusting In Him, Santiago
Notes may be sent to:
Santiago Lange
Birkenweg 13
55490 Gemünden
Germany