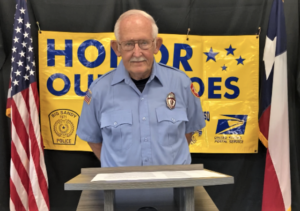 Our beloved brother, Sonny Parsons, died on May 12, 2022. He pastored the GC Big Sandy congregation for 13 years and was a current member in his retirement. His memorial service on May 22 in Big Sandy was attended by many whose lives were deeply impacted by his kindness and service. He will be deeply missed.
Frank "Sonny" Parsons grew up in Jackson, Mississippi, and has a long history of community service. He went to Provine High School, where he met his wife, Jane. They enjoyed more than fifty years of marriage before Jane passed away in 2017.
As an Eagle Scout, the Boy Scout organization was important to him. Sonny helped found one of the first camps for children with intellectual disabilities in Mississippi. He attended Mississippi State University and Ambassador University and served many years as a school administrator and educator.
He believed we should never stop learning, growing, and serving. Sonny served on the Big Sandy City Council, was the mayor of Big Sandy for three terms, and served on the Volunteer Fire Department. He was a loving, peaceful, kind man, and a loving husband and father. Above all, Sonny loved our Lord and Savior.
Cards and notes may be sent to his daughter:
Amy Peeples
420 VZCR 4503
Ben Wheeler, TX 75754
Visit here to read more about Sonny's full life of service.