Now there was leaning on Jesus' bosom one of his disciples, whom Jesus loved. John 13:23 KJV
Have you, like me, read this and felt a twinge of jealousy? The disciple John was so close to Jesus as to hear his heartbeat. Don't we long to look up into Jesus' face and ask him, "What is the next right thing to do?"
Now we turn our attention to Trinity Sunday, where we recently heard John 16 preached. In our Revised Common Lectionary (RCL) passage, we heard Jesus say, "I'm going to tell you everything you will need to know with certainty."
No, he didn't say that. Instead, he promised the guidance of Holy Spirit.
I have much more to say to you, more than you can now bear. But when he, the Spirit of truth, comes, he will guide you into all the truth. He will not speak on his own; he will speak only what he hears, and he will tell you what is yet to come. He will glorify me because it is from me that he will receive what he will make known to you. All that belongs to the Father is mine. That is why I said the Spirit will receive from me what he will make known to you. (John 16:12-15 NIV)
Jesus invited us into the sacred mystery of being taught by Holy Spirit. Even to his first-century disciples who were physically with him, Jesus declared that there was more. Even they needed the promise that there is more to come.
Jesus has called us into a relationship of trust with his Spirit of truth. Holy
Spirit will guide us into all truth. Do you believe it?
In this season after Pentecost, how are you attuning to Holy Spirit? How are you intentionally practicing being present to Spirit and listening for guidance?
Prayer
Loving God, we bow our hearts to embrace humility and curiosity to your leading. We open our palms to let go of grasping for certainty and reliance on our own reasoning. We are grateful that you've revealed yourself as triune God. We desire to believe that Jesus is the perfect representation of Father, and Spirit only testifies to Son. Help our unbelief. May we be so attuned to Spirit's leading that we hear the heartbeat of Jesus. Speak, Lord; we're listening! We love you. Amen.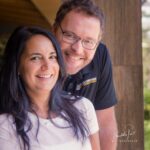 Elizabeth Mullins
Media Publications Assistant, Update Editor