James White is the father of Troy White, GCI elder, and father-in-law of Connie White, Donations Processor in the Home Office, Charlotte, NC. We join them in their grief and in their hope of resurrection.
The following is the obituary shared with Update from his family.
---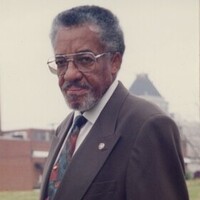 James "Jim" White, beloved husband, father, and friend, passed away peacefully on July 5, 2022, in Roanoke, VA, at the age of 88. Jim was born in Lynchburg, VA, on August 2, 1933.
He was a proud graduate of Lucy Addison High School. After graduation, he was drafted into the United States Army and served in the Korean War. While in the Army, Jim honed his skills as a trumpet player and performed in the traveling military band. After leaving the Army, he played in a jazz band called The Corvettes, entertaining folks in towns and cities all over southwest Virginia.
He believed in hard work and maintained multiple jobs simultaneously throughout his working career. Jim enjoyed working for General Electric as a machinist/lathe operator for over 25 years. He was an entrepreneur who started his own grading, excavating, and demolition business called J.H. White, Inc., in 1972. He retired 46 years later at the young age of 85.
Jim was a devout Christian, a faithful member of Grace Communion International where he served in various roles. He loved the Lord, his church family, and discussing biblical subjects with everyone.
Jim was preceded in death by his loving wife of many years, Anna Louise White. Jim is lovingly remembered by his four children, Patrice White, Joyce White, Ricky (Brenda) White, and Troy (Connie) White; four grandchildren, Lamont White, Damon White, Andrew White, and Jonathan White; along with four great-grandchildren and many nieces, nephews, and extended family.
Honorable, kind, giving, easy-going, friendly, personable. These are words everyone uses to describe Jim White.