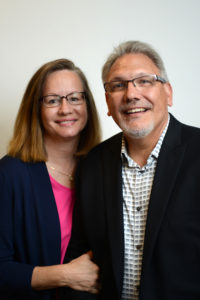 Dear GCI Family and Friends,
Susan and I are part of a new church plant in Steele Creek, NC (a neighborhood in Charlotte). So far, we have been gathering in the home of the pastor, Dishon Mills, and it has been a delight. I am proud to say that we follow the Revised Common Lectionary and keep in step with the GCI Worship Calendar.
During Easter season, we studied John 17 and explored the prayer of Jesus that he prayed for the disciples and us. How amazing for Jesus to include all believers in his prayer, and even more amazing to include us in his life and love. The essence of the prayer is, "that all of them may be one, Father, just as you are in me and I am in you." (John 17:21)
It struck me how the Godhead of Father, Son, and Spirit are all at work in this process of bringing the oneness and unity that only God possesses, and only he can give. My mind went to Paul's letter to the church in Ephesus.
In GCI we spend a great deal of focus and instruction on this New Testament letter. In chapter 4, Paul speaks about the offices of the church and the purpose for each office. It was from this letter and other passages that I extrapolated the 4 E's of pastoral ministry – Engage, Equip, Empower and Encourage. These aspects of ministry had a solid biblical foundation for the New Testament church and still do for our church today.
Notice that before Paul speaks specifically about the church offices, he says this, "Make every effort to keep the unity of the Spirit through the bond of peace" (Ephesians 4:3, NIV).
The oneness, the unity that Jesus prayed for us is produced through the presence and power of the Spirit. It is a gift for us to receive, and then for us to pass along.
In light of all this, who God is and who we are as his adopted, redeemed children, here's what I want you to do. While I'm locked up here, a prisoner for the Master, I want you to get out there and walk—better yet, run!—on the road God called you to travel. I don't want any of you sitting around on your hands. I don't want anyone strolling off, down some path that goes nowhere. And mark that you do this with humility and discipline—not in fits and starts, but steadily, pouring yourselves out for each other in acts of love, alert at noticing differences and quick at mending fences. (Ephesians 4:1-3 MSG)
There is a lot going on here in our walk with Jesus through the Spirit. Allow me to draw your attention to three basic actions that allow us to stay in step with Jesus and to maintain the Spirit-produced unity.
Pour yourselves out in acts of love for each other – tangible, selfless acts of kindness and care.
Be alert in noticing differences. Noticing differences is not meant to divide, but to motivate us for positive actions toward building meaningful relationships. This begins with knowing that all humanity is under the spilled blood of Jesus, and we can't see anybody in any other way. This means we regard others as we regard ourselves. (2 Corinthians 5:16)
Be quick to mend fences. Saying, "I was wrong, please forgive me" is one of the most powerful statements a human can make. Instead of simply being peacekeepers, Jesus said to be peacemakers.
Our walk with Jesus and participation with the Spirit will move us on this path of unity. If you read to the end of chapter four it speaks about us growing up into the stature and fullness of Jesus. We are back to the "oneness" that he prayed in John 17. May the prayer of Jesus be fulfilled in you and me, and throughout the church.
In him,
Greg Williams
P.S. I solicit your prayers for this new church plant and for all church plants that are springing up across our global family of churches. Church experts will tell you that there is no stronger demonstration of the gospel than the start of a new church.