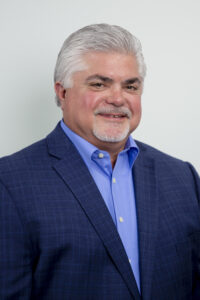 "Following God's lead has never been boring or easy, but it has always been filled with an overall sense of peace and joy that can only be explained through God's presence along the way." –Mat Morgan
---
Join us in congratulating Mat on his retirement! We are very grateful for his good and faithful service.
Mat is an elder who has worked for GCI and GCS in various capacities for more than 40 years. He has worked closely with the last four GCI presidents and has served on the Board for many of these years. After receiving his MBA in 1994, he worked in both the legal and financial areas and has been in his current position as Chief Financial Officer since 2005. He is married to Pam, GCI's Operations Coordinator. Together they have two children, Mathew (wife, Natalie) and Jessica (husband, Johnny) and two grandchildren.
He considers it a privilege to have worked for the church during some challenging years of transition because he has seen God's hand in the journey at every stage and has "served with some of the most wonderful people in the world." He looks forward to what God has in store for GCI in the years ahead.
Read on, as Mat's coworkers pay tribute to him.
---
"It has been a pleasure and privilege to work for Mat these many years. Never a dull day! I wish him the same busy schedule in his retirement, only with an itinerary of grandkids, fishing, hiking—and not too many difficult questions to ponder—even from a grandchild!"
–Cheryl Corson, HR & Risk Manager, Board Secretary, Executive Assistant to the CFO
"I have had the great privilege of working with Mat for the past two years. He has been an excellent leader because he has sought first to be a follower of Christ. It is the love of Christ, his love for him in return, and his compassionate care for God's people that compels him to serve. I am incredibly thankful to Mat for all of the faithful work he has contributed over the years. Mat's willingness to participate in Jesus' ministry has directly impacted my ability to be where I am, serve where I do, witness where God is at work in this moment, and anticipate the future he is leading us towards.
Thank you Mat for the gift you have been to all of us throughout GCI. May you experience abundant blessings and joy in this season ahead of you."
–Cara Garrity, Development Coordinator
"Mat has been such a blessing to our denomination. He helped guide us through some of the darkest times of our transition from legalism into grace. My heart always ached that a man with such a huge heart was put in such a difficult position—but I am extremely grateful for him and his heart.
Mat is one of the most faithful, godly men I have ever had the privilege to work alongside. Mat is the real deal. What you see with Mat—is who he is. He is faithful and consistently striving to be the best follower of Jesus he can possibly be. He works behind the scenes with great humility, constantly pointing people to Jesus and not to himself."
–Mike Rasmussen, Superintendent, North America & Caribbean and Regional Director, Central US
"Mat Morgan has been the consummate steward on behalf of GCI for the past quarter century. I came alongside Mat in 2014 as Superintendent of US & Mexico. Mat and I sat through many meetings together over the past decade, with follow-up meetings to decipher what we heard and to determine what seemed good to the Holy Spirit and us. And we then executed many projects together (some more difficult and complex than others).
Mat and I have different personalities, and yet those differences proved to be complimentary and a benefit for the denomination. We have been a good team and brothers throughout it all. The brotherhood will continue beyond active employment."
–Greg Williams, President
---