Dear Brothers and Sisters in Christ,
As we pause in the United States for our annual Thanksgiving celebration, I am again reminded of how deeply thankful I am for the blessing of working with such a wonderful group of dedicated pastors and elders as you all are! I pray daily for you and you families and wish you a most relaxing and joyful Thanksgiving.
---
Canada
Canadian National Director Gary Moore shared this report from Alvaro Palacio about the regional volleyball tournament recently held in Toronto:
The Toronto East church, in collaboration with the Montreal church, held their traditional Annual Volleyball Tournament Weekend November 14-15. The tournament is an event that gathers young church members, families and friends from Ontario and Quebec.

Services on Saturday afternoon were a great family reunion of 145 people, half of them visitors. Right after services, pizza dinner and integration games made the evening short and plenty of fun.

Sport activities started early on Sunday with the participation of 10 teams. After a day of plenty of Christ-style sports competition, the senior team from Cornerstone Christian Fellowship in Toronto took the gold medal, followed by the team from Ottawa Valley. A combined junior team with players from Montreal and Ottawa churches won the gold medal in the junior category. Sportsmanship was so high that three teams received mentions. Also, this year we had our first francophone team from Montreal.

Volleyball weekend is an annual highlight that allows us to share and express God's love in many different ways. Several members opened their homes to host visitors, others prepared a special worship service, others donated and served food, while others served as referees, drivers, etc. We're already looking forward to next year's Volleyball Tournament Weekend.
---
ACCM Launches First Class in Spanish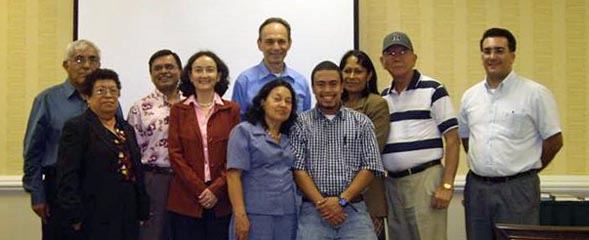 Ambassador College of Christian Ministry (ACCM) presented its first class in the Spanish language with an intensive course in Spiritual Formation just before the GCI Regional Conference in Orlando November 4-5. The class was taught by Florida Pastor Larry Hinkle, Latin American Missions Developer Hector Barrero, and Hector's wife Paulina. Most of the translation work for the online materials, as well as the class workbook for the intensive, were done by our GCI translator in El Salvador, David Agreda. Kerry Gubb, ACCM Registrar, set up the online materials.
ACCM Director John McLean said he was delighted that ACCM is now able to help serve the needs of our Spanish-speaking ministry. He added, "We are very happy to have someone with Larry's experience and expertise teach the class, and he has done a great job getting our first Spanish-language class off the ground."
Nine students attended from the US, Mexico, Colombia, El Salvador, and Argentina. The students will now have six months to complete the remaining coursework from materials made available online. Scholarships for students were provided by the Sydney, Australia, congregation.
Participants said the class was a great success, and that "the Lord's presence was clearly evident."
Plans are under way to develop a Spanish-language version of each of the courses in the ACCM Diploma program. This major undertaking will take time, but we feel blessed to have been able to "jump start" the program with this successful initiative in Orlando.
The cost for taking an ACCM online class is $150 for credit or $100 for audit. Although this is inexpensive in comparison to other quality online courses in the US, for most of our members living in Latin America it is quite expensive. For anyone interested in helping to financially sponsor future courses for those unable to afford this ministry training, please contact Larry Hinkle at larry.hinkle@wcg.org or 954-346-7706. For further information regarding classes in the ACCM program see www.ambascol.org
---
Asia-Pacific
From Rod Matthews:
The last couple of months have seen a significant number of earthquakes and related effects in the Pacific and Southeast Asian areas, as well as flooding from cyclones/typhoons. On September 29, a strong earthquake of magnitude 8.0 occurred deep under the Pacific Ocean 190 km to the south of Samoa and generated a tsunami that wreaked havoc along the southern shore of the island of Upolu in (Western) Samoa. Considerable damage also occurred in neighboring American Samoa, including parts of the capital, Pago Pago. While we are not aware of church members being in the affected areas, one member in Auckland, New Zealand, John Mata'afa, comes from the area of Samoa where the tsunami struck and had family members living in a village on that coastline. Miraculously, his family's home was surrounded by the waters but not damaged, and his family survived unscathed while dozens were killed along the same coastline.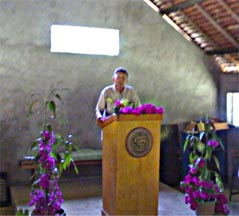 Not long afterwards, several strong earthquakes struck in the sea off the northern coast of Vanuatu, prompting another tsunami warning. At the time, our congregation in Rory on the island of Malekula was celebrating their annual festival. Rory is somewhat remote and several kilometers inland, and no one heard about the warning until they saw people coming down out of the hills carrying sleeping gear. Fortunately, no tsunami was experienced there, and the earthquake was far enough away to be felt but without causing structural damage to buildings.
Isei Colati, who pastors our Fiji congregations, traveled with his wife, Vasiti, to be the guest speaker at the festival in Vanuatu this year. They enjoyed the experience of being in a neighboring country and strengthening the links between two of our Pacific congregations despite some language difficulties. While Fijian and English are the primary languages of Fiji, Bislama and French are the primary languages in this part of Vanuatu, with English a distant third. But Vanuatu pastor William Davies is trilingual and able to translate messages and help the communication flow. Isei said one of the highlights of the festival was the baptism of three into the Body of Christ in the sea during a church picnic when everyone was present (see picture to right).
Around the same time, severe flooding was affecting the central south of India – specifically the south of the state of Andhra Pradesh and northern Karnataka. We have two member families living in the area affected, but neither had to evacuate from their homes.
A day after the Samoan earthquake, an earthquake registering 7.0 on the Richter scale shook the Indonesian island of Sumatra, causing much damage and many deaths in the city of Padang and coastal villages along the south of the island. Landslides added to the destruction due to the steep terrain and very wet climate.
All this was in addition to the extreme flooding that affected the Philippines, and specifically Manila, in the wake of tropical storm Ketsana, as reported by our Manila office.
Papua New Guinea
On December 29, two of our leaders in the Mt. Wilhelm congregation, Richard Kindi and Ben Galwa, will be attending a preaching seminar in the Highlands town of Banz conducted by Langham Partnership International (LPA). LPA is a ministry founded by Dr. John Stott, renowned theologian and author, which is dedicated to training congregational leaders in developing nations to become accurate and energetic students and teachers of the Scriptures.
In a recent newsletter, LPA reported:
In PNG, almost the whole population has a link to a Christian denomination, but sometimes this allegiance is superficial: the island has been marked by a high level of violence and crime, and the old ethnic religions remain a powerful underlying influence. There is a need for a robust Christianity that challenges and radically transforms basic values and beliefs, to stem the tide of disillusionment with Christianity that is beginning to develop in certain areas. Without this, people revert to traditional customs and often succumb to social evils such as drunkenness and gambling.

Having been invited to attend the launch of the Langham Preaching movement in neighboring Vanuatu, one pastor described his joy at the teaching: "Digging the word of God in the way you have shown to us is like mining gold in the highlands of Papua New Guinea where I live. It's a new exposure to really concentrate and dig out what it means to see the Bible come alive and relate to every day living."

The second pastoral visit to PNG for 2009, scheduled for September, had to be canceled as a precautionary measure due to an outbreak of cholera, which thankfully was not in the immediate vicinity of where our people reside. One member, who was planning to go to PNG with pastoral coordinator Mark Latham, was told by his employer that if he went he would have to be placed in quarantine for three months after his return and could not work. We understand that the outbreak has now been brought under control.
Pakistan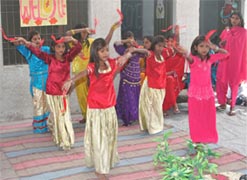 Our ministry partner in Pakistan, Dr. Muqaddam Zia, has recently established a school project for vulnerable, poor and marginalized Christian children. He wrote that most Christians in Pakistan cannot afford to send their children to schools to get educated. As a result they remain under‐privileged, uneducated and face a bleak future. Most of these children spend their time in the streets and many become drug addicts and criminals. To help relieve this situation, he has started the "ABC Kindergarten School" for these poor Christian children, where they get a free education without having to pay for books and materials. He currently has 117 children registered with this program.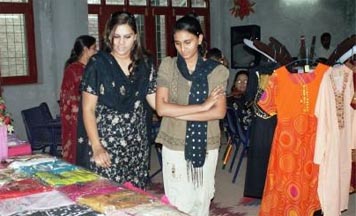 The sewing school established over a year ago to help marginalized Christian girls and women is going well. Muqaddam recently sent us photos of an exhibition of the handicrafts and clothing made by the students of the sewing school. As we have mentioned before, young Christian girls are a soft target for hard-line Muslim fundamentalists who believe that they earn points in paradise for punishing those who refuse to believe in Allah. Christian women tend to be the poorest and most despised of the citizen groups, and have few opportunities to earn a decent living.
Muqaddam explains that because of their faith, Christians are not able to apply for high-paying jobs and are often compelled to involve their children in child labor, taking low-paying jobs such as cleaning streets and washrooms or becoming donkey‐cart drivers. Some are even tempted to sell one of their kidneys. Christians are the most frequent targets of violence, rape, and torture because Muslims associate them with the beliefs of the United States and Israel. Muslims comprise 97 percent of Pakistan's 160 million people. Christians are only one of the minorities in the other 3 percent, and are treated as the untouchable lower-class citizens of Pakistan.
In Pakistani culture, a girl or woman who is raped is considered unacceptable for marriage. The girls are unable to find work because they have been shamed and lack the necessary skills. Many of them try to commit suicide rather than live in the shadow of this disgrace for their entire life. The sewing school project is very important in this environment. The training is free of cost and enables them to gain skills that can help them start their own small business at home. Muqaddam said that he also has plans to start literacy classes for these girls, because they were unable to go to school due to the poverty of their families. In response to our support, he wrote, "No words could ever express the thanks these precious Christian sisters will have for you. Thanks a lot for your prayers, support and love for this strategic initiative. May God bless you with His abundant blessings."
---
Bangladesh Mission Trip Opportunity
A three-week mission trip with Dr. John Biswas, who heads up the Bengali Evangelical Association Mission and operates as national director for GCI in Bangladesh, is being planned to begin the third week of January, 2010.
This is a trip that will get you out of your comfort zone. Accommodations are not what you might be used to, but are adequate. You would be working among the poorest of the poor.
Those who come will need to pay their own expenses, including airfare to Dhaka and the cost of accommodation in Barisal, which is the nearest city to our mission center and will be our base and overnight accommodation.
This is an opportunity to visit and encourage our Christian brothers and sisters at our mission and in the villages of Bangladesh. Pastors and elders are needed for Bible instruction, and members with medical experience and those with experience working with the deaf and blind are especially welcome.
If you are interested in participating, please contact John Biswas at Bea.mission@verizon.net More information is available at <www.bengalimission.org>.
---
Sponsor a Pastor to the 2010 International Conference
As we look forward to next year's international conference, I'm sure we all agree that it would be wonderful if we could help pastors from isolated, underprivileged areas be able to attend with us. This hope could become a reality if some of our congregations with the means and desire could sponsor a pastor and spouse for the 2010 conference.
Some congregations might want to direct a portion of their international missions budget toward this need. If your congregation would like to be involved, please contact Charles Albrecht (charles.albrecht@gci.org), who will help you select a pastor to sponsor. Smaller congregations might want to combine resources to sponsor a pastor. Charles can also help you coordinate a joint effort.
---
Prayer Request
Remember that prayer is the battleground where we fight the good fight of faith. Let's encourage everyone to join together in prayer, for we belong to Christ, and by the Spirit it is in Christ that we pray. Prayer and other spiritual activities help keep our hearts in tune with God and remind us of who we are in Christ. He is our all in all, and in him we are eternally beloved of the Father and blessed to share his good news with others.
Love from my family to yours,
Joseph Tkach
---