Church Administration and Development offers Transformational Church (TC) consulting to GCI congregations in the U.S. These services help congregations assess their current level of health and then grow in their participation in the ministry that Jesus is doing to transform lives. Here are reports from two GCI congregations currently receiving TC services.
Christ Community Church (CCC), Cincinnati, OH
Here is a report from CCC senior pastor, George Hart: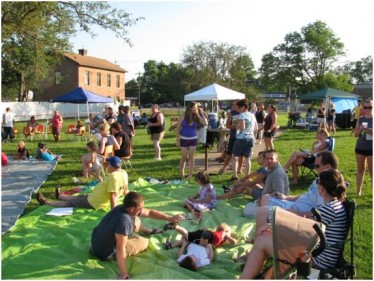 Last winter, we began the TC process by conducting a church health assessment, using LifeWay's Transformational Church Assessment Tool (TCAT). This was followed by a day-long Discovery Retreat, facilitated by two of GCI's TC consultants: Ken Williams and Ted Johnston. As a result, we're now moving forward on several fronts. A key one is to reach out to the community around our church hall. We are doing so using a Word in the Street type outreach (Word in the Street is our annual urban mission outreach to the inner city of Cincinnati – we have adapted this mission format to reach out to the community nearby our place of meeting).
Our first outreach was held on July 10, with the theme "God's Extravagant Love" (see picture). We started at 6:30pm with live music and free food. This was followed with worship songs and a children's message. A giant ice-cream sundae was made to emphasize the extravagant love God has for children. There was also a short message for the adults emphasizing that no matter where they are in life or what they have done, God is not angry with them but wants to shower them with love. After the messages there were games for the children and fellowship for the adults. A number of members served, and many came out just to get to know our neighbors in the community. Here are some of the results:
One lady thanked us no less than 4 times for coming, and just before she left she made it a point to thank us again. She said, "It is so nice to see the kids playing together rather than arguing and fighting with each other."
One man from Guatemala, who spoke no English, was sitting on a rock away from the crowd enjoying the music. He was introduced to one of our members who spoke a little Spanish and when he heard his native language, his whole face lit up. I happened to see him the following evening, and he gave me a huge smile.
During the time of fellowship several people from the community received prayer. One man prayed for said, "I have never felt such love."
We have two more events like this scheduled – one in August and one in September.
[For a video interview with George concerning TC services, click here.]
Grace Family Fellowship (GFF), Toledo, OH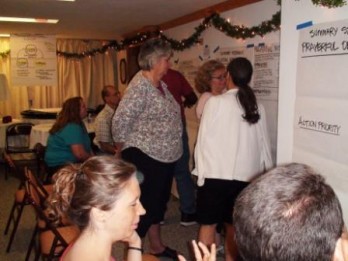 GFF recently began the TC process by conducting a church health assessment using the TCAT. Following that, GFF's pastor, ministry leaders and key workers held a day-long Discovery Retreat which was facilitated by GCI TC consultant Ted Johnston.
During the retreat (see picture), the group sought the Holy Spirit's direction for GFF's next steps for their participation in ministry with Jesus – both within the congregation, and out to the community. Highly interactive discussions focused on understanding and utilizing the congregation's strengths related to worship, community and mission. Time was also spent understanding GFF's challenges in those issues, and seeking the Spirit's direction for growth. The group then brainstormed action priorities related to their next steps. Following the retreat, Ted prepared a summary report setting forth the results. The report serves as a map for the journey forward with Jesus. Ted will coach the congregation's pastor, Stuart Mahan, as GFF moves forward.
Church Administration and Development offers several types of Transformational Church consulting. If your congregation is interested, watch a short video by clicking here. If still interested, contact Church Administration and Development at 800.574.2299, or email any member of the Ministry Development Team. One of GCI's Transformational Church consultants will help you choose an approach suitable to your circumstances.