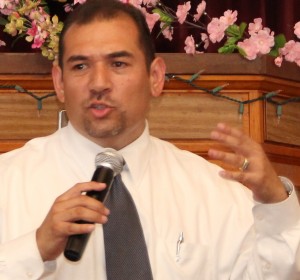 Last time, we reported on a new GCI satellite congregation being planted in Los Angeles. Here is a follow-up from pastor Heber Ticas (pictured at right):
We held a preview worship service on August 28. God is amazingly awesome – 126 people attended, including 43 adults and 11 kids not connected with the San Fernando "mother" church! An additional six people attended from our Santa Fe Springs church. During the service, ten people confessed faith in Christ in response to an altar call.
All our expectations for the event were surpassed by far. It was encouraging to see members from San Fernando who live in Los Angeles demonstrate a commitment to the new congregation by attending the evening service. The team did a phenomenal job getting word out and inviting friends and family. We now have five different homes where we are holding follow-up Bible studies.
Overall, the preview was a total success (see pictures below). Excitement and momentum keeps building. We have our second preview service on September 25. If we have a similar response, I may decide to launch the new congregation in October. We continue to solicit your prayers.