Retired GCI pastor Maceo Hampton has been battling prostate cancer. Here is his praise report.
Dear Family and Friends,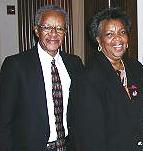 THANK YOU, THANK YOU, for your prayers, supplications, fastings, cards, and all the thoughtful and wonderful messages that I have received these past months as I went through my evaluations and radiation treatments. GOD IS GOOD and MERCIFUL! I finished my last radiation treatment on January 23 and for the past several weeks I have been experiencing the lessening of the "after effects" from hormone therapy and radiation.
I had an appointment on March 7. The doctor was very pleased with my low PSA count. He said that all indications were that I am CANCER FREE! Thank God!! There will be another follow-up visit in four months.
Prayer is important and vital. We must never underestimate it in "holding up the hands" of all who request and need it. Again THANK YOU!
Maceo Hampton