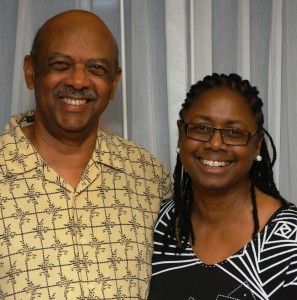 Cecil Pulley, pastor of GCI's congregation in Bermuda, grew up in Bermuda's Pembroke Parish where he attended Bermuda Technical Institute, majoring in building construction. After high school, he worked as a draftsman in a local architecture firm. Then in 1968, Cecil began watching The World Tomorrow telecast. He was fascinated by the presenter's boldness in sharing his views concerning Bible prophecy and the gospel. Later, Cecil began reading the Plain Truth and other WCG literature. In 1970, he attended his first WCG church meeting when Caribbean regional director Stan Bass visited Bermuda. About a year later, Stan returned and Cecil was baptized.
Sometime later, Cecil moved to Boston to study architecture. There he was able to regularly attend WCG church services. The pastor encouraged Cecil to apply for Ambassador College. He did and was accepted to attend in Pasadena. About his experience, Cecil said this: "Attending Ambassador was tremendously uplifting. On my first day, I met and had breakfast with a young lady from San Francisco named Senior Grundy who would later become my wife. We were married in 1974 and graduated in 1976. After graduation, we moved to Bermuda and began serving in the local church." The couple will celebrate their 40th anniversary later this year.
Cecil and Senior have one child, a son named Seth—their "miracle baby," who was born three months early weighing only two pounds. Today, Seth is a healthy 185 pounds and nearly six feet tall. Cecil says that one of his most memorable moments as a pastor (and father) was baptizing Seth.
Cecil was ordained by Stan Bass in 1979 and became the full-time pastor of the Bermuda congregation in 1983 when the previous pastor transferred to another Caribbean island. Cecil says that one of the things he loves most about being a pastor is, "working with God's people and helping them deal with life's many issues. To watch the power of God's love transforming peoples' lives is awesome!" He notes that what he has enjoyed most about his time in GCI is, "the opportunity to participate in the journey from legalism to grace. Though it has been challenging, it has been gratifying to see where God has brought us, giving us a wonderful new relationship with our Triune God. I also love the camaraderie we all share as ministers of Jesus Christ."
Several years ago, Cecil led the design and construction of the congregation's own church building. He calls it a "two-year labor of love," noting that "we have a first-class facility, which serves our members and local community. There is a nursery school on the premises, which serves area children. My passion is to share the love of God with people in the community, providing them with hope."
Cecil notes that the times when he feels closest to God are, "occasions in the evening when I can sit on my front porch and gaze up at the stars and commune with my Creator one-on-one, remembering David's words, 'The heavens declare the glory of God: the skies proclaim the work of his hands.'"