This update is from Church Multiplication Ministries (CMM) leadership team member Glen Weber.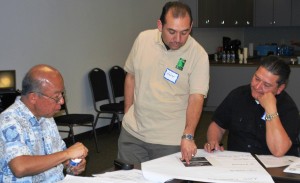 Eleven people from four states gathered recently at GCI's home office in Glendora, California to participate in CMM's Church Next Training (CNT)-west. Attending were church planters Angie and Saddie Tabin (who recently planted a GCI church in Southern California) and GCI pastors and members working toward starting other GCI churches.
Randy Bloom, Heber Ticas (pictured at right, standing) and Glen Weber led the training, which addressed these topics:
What is a church planter?
Core values, vision and mission
Focus groups/demographics
Creating a Discipleship Pathway
Fundraising
Launch teams and gathering people
Launching a worship service
The training along with informal discussions over meals helped participants gain focus concerning their church planting plans. The group left believing that out of this group will come at least two new GCI congregations. Please pray for their progress.
Are you interested in starting a new church or helping an established church re-launch (re-mission)? If so, you are invited to participate in CNT-east, coming to Asheville, North Carolina on July 24-25, 2014. For details, click here.