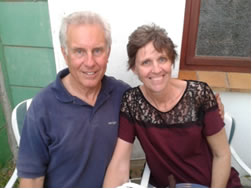 We are saddened to announce the death of Debbie Klynsmith, wife of GCI elder Bob Klynsmith.
Debbie passed away in Cape Town, South Africa on February 2. She had been courageously fighting cancer for over three years.
Debbie was born in Northern Zambia in 1960. The family moved to South Africa when she was three years of age. Debbie and her husband, Bob Klynsmith, were married in Johannesburg in 1982. They enjoyed close to 33 wonderful years of marriage, including parenting their three sons David, Warren and Matthew.
Bob graduated from Ambassador University in 1973 and entered full-time ministry in 1981 after working in business for several years. In 1992, Bob became the national leader of WCG/GCI in Southern Africa, serving in that capacity until 1996 during the years of our transformation as a church. He currently runs his own management and strategic consulting business in Cape Town while serving GCI in a bi-vocational mentoring role and as an editor and writer for our Face to Face magazine.
Debbie will always be remembered for her gracious strength, dignity and caring nature. She was a remarkable person and friend who sincerely served those who crossed her path with compassion. Besides being a competent legal secretary and loyally supporting Bob in ministry, Debbie poured many years of her life into the Kenridge scouting movement as a volunteer instructor. She adored young people and deeply loved her three sons. Debbie's gentle smile, thoughtfulness and love for life will be deeply missed.
Our thoughts and prayers are with Bob, David, Warren and Matthew as well with Debbie's mother, Grace; Debbie's sister Glynis; and her brothers Richard and Douglas and their families.
Debbie's funeral will be held on February 8 in Cape Town. Messages may be emailed to Bob at robert@strategic-options.co.za
Cards may be sent to:
PO Box 627 Sea Point, Cape Town South Africa, 8060