This update on George Affeldt's condition is from his daughter Jennifer (Affeldt) Giddens. For the original prayer request, click here.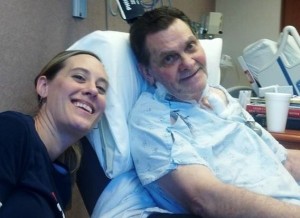 Perhaps you saw on Facebook the picture at right of me with my father during a Super Bowl party held at his bed in the hospital. I'm pleased to report that since then, Dad has been sent home. He's a bit weak, but doing well.
On January 24, Dad fell when getting out of bed. Mom called 911 and they took him to the emergency room at the hospital. A kidney stone was discovered. It had dropped and lodged between his bladder and kidney, causing severe infection. Surgery was needed, though due to his blood pressure dropping, it would be risky. Dad asked my sister to call my brother and me before going into surgery. I don't think Dad expected to survive, but he did! He told my nephew, Jonathan, "I pulled one out of the fire today!" Dad then spent several days in the hospital recuperating. They treated him for a blood infection and gave him dialysis to "wake up" a sleeping kidney. He is now home, continuing to receive antibiotic treatments. They don't feel that he will need further dialysis.
Dad has an amazing testimony to God's power to heal. Thanks to all who prayed for him, my mom and our whole family. We have felt those prayers! Please continue to pray for Dad's recovery, that he will be able to spend several more years (and Super Bowls) with us.
Cards may be sent to:
George and Jacki Affeldt 508 North Marquette Avenue Sioux Falls, SD 57110-5736