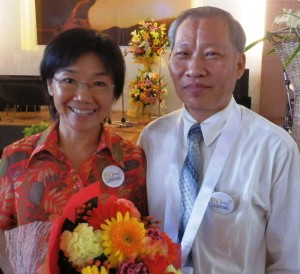 Mein Kong, GCI pastor in Malaysia, grew up in Kampar, a small Malaysian town. "My grandfather from China had settled there to work in the tin mines. No one in my ancestry was Christian. My parents enrolled me in a school run by the Methodist church so I could learn English. Though school there included a weekly chapel service and Bible classes, I developed no interest in Christianity.
During high school, Mein Kong subscribed to The Plain Truth because it was free and he had a keen interest in current events. Reading that magazine led him to develop an interest in Christianity and to contacting WCG. While in college, he was baptized in 1974 by WCG pastor Guy Ames, who was based in Singapore at the time.
Following graduation from college, Mein Kong worked as a civil engineer for 17 years. "In 1994 I was asked to serve in ministry full time and enrolled in Ambassador University at Big Sandy, accompanied by my wife and our two children. We returned to Malaysia in 1995, where I was ordained to serve as assistant pastor to Yong Chin Gee. I became pastor when he retired in 2005."
Mein Kong married Chew Yeng in 1984. Their daughter Xiao Qing works in human resources at General Electric Malaysia. Their younger son Tian Yu died in 2011 in a plane crash while working as a flight instructor in the Philippines.
Asked what he likes most about being a pastor, Mein Kong said this: "What I enjoy most is the fellowship and discussions with the church members of various cultures and in different countries in my pastoral region. I feel very privileged and blessed for that opportunity. My wife serves as women's ministry and church worship coordinator, and enjoys travelling with me at times to visit members in outlying areas. I love being in GCI because it is always learning and growing, and its spiritual journey led by Christ is exhilarating. GCI's worldwide connections, global perspective and close family-like relationships are truly special."
Asked about his passions, he said this: "I guess it is helping believers see things from God's perspective and to be spiritually transformed. Also, I love watching mystery movies, solving puzzles and reading theology books that stretch the mind. I used to read detective novels in my younger days, but don't have the time now.