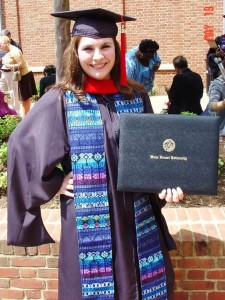 On May 19, GCI elder and former Internship Program participant, Hillary Irusta, graduated from Wake Forest University School of Divinity in Winston-Salem, North Carolina with a Masters of Divinity (MDiv) degree.
Hillary currently serves as associate pastor of GCI's Centered Church in Greensboro, North Carolina. In August, she will begin a CPE (Clinical Pastoral Education) Chaplaincy Residency at Greensboro's Moses H. Cone Memorial Hospital. She is looking forward to opportunities to provide spiritual care to patients, loved ones and hospital staff.
Speaking of her sense of vocation, Hillary was quoted during the diploma ceremony saying, "I'm called into the heart of the Beloved, to live a life pursuing wholeness for myself, neighbors and creation while equipping the church for acts of radical hospitality, justice and compassion in the world."
Congratulations to Hillary and her family!