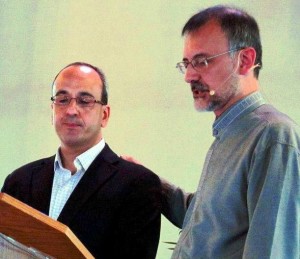 We are pleased to announce several recent elder ordinations:
Tony Polera, Toronto East, Ontario, Canada—pictured at right, being ordained by Toronto East pastor, Alvaro Palacio
Ted Natividad, Zamboanga City, Philippines
Robert Grinnell, Good Hope, Alabama—see details below
Lister Chen, Prince George, British Columbia, Canada
Jackie Hill, Edinburgh, Scotland
George Strub, Big Sandy, Texas
William Stenger, Big Sandy,Texas
Ronald Ratliff, based on his prior ordination in the American Baptist Church, recently was confirmed as a GCI elder.
In the picture above, Bob Grinnell is being ordained by Birmingham and Good Hope, Alabama pastor Bob Miller (at left), with assistance from Attalla, Alabama pastor Rannie Childress (at right) and Decatur, Alabama pastor Brad Campbell (at rear). Carole Grinnell is at her husband's side.