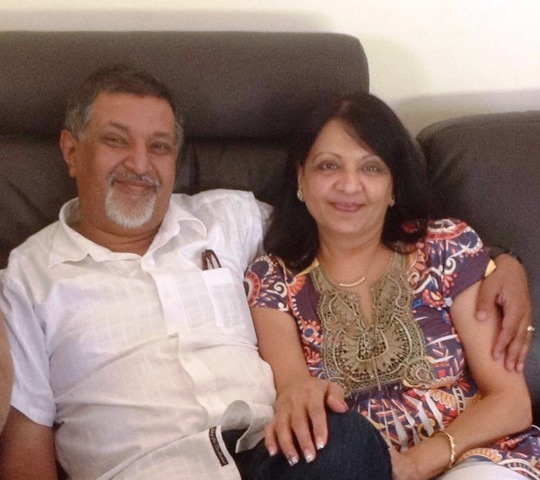 Bharat Naker, pastor of GCI's congregation in Adelaide, Australia, seemingly has been everywhere. He was born to Indian parents in Tanzania, Africa. "I lived in Tanzania for ten years, in India for two (at age 5 and 11), then at age 12 to 24 in London as part of the East African Indian diaspora. Due to family and church moves, I've lived on five continents, in six countries and in eight cities."
Bharat says he had an enjoyable care-free upbringing, "playing in the streets late into the evening—marbles, cricket, hide & seek—in tropical Dar-es-Salaam." Bharat was raised a Hindu. "My mother was very devout. I was the last born of seven children. She brought me up with stories from the Hindu scriptures. We would often sit in the evenings listening to and discussing these stories."
Bharat says that David Nunn, one of his teachers in London, introduced him at an early age to the Bible in a religious education class. Though that didn't have a significant impact on him at the time, things changed at age 14:"I was looking through a Reader's Digest for free postage stamp offers and came across an ad for the free Plain Truth magazine. I thought, 'why not—what harm could it do?'" Bharat started reading church literature and at age 16 converted to Christianity. "At age 21 I started attending WCG/GCI at the Indian YMCA in London."
In September 1982, Bharat married Urvashi, also the youngest child in a large family. Their two families were interconnected from several generations in India and Africa. "We both come from religious and business families and have siblings spread over four continents." Urvashi's brother lives in Toronto and is married to Bharat's sister. "We went to Switzerland for our honeymoon, followed by a week-long church festival in Bonndorf, Germany. John Halford was there that year and he strongly encouraged us, as newly-wed young Indians from the UK, to apply for college and see what God's will would be. So we ended up in Pasadena, California, before our first anniversary."
Bharat and Urvashi ("Katie") attended Ambassador College from 1983-1986 and he was hired in 1986 by Joseph Tkach Sr. as a trainee serving with Abner Washington in Los Angeles. In 1987 he was ordained and sent to India where he served until 1990, then to Sydney, Australia, and then in 1992 to Sri Lanka, and then in 1997 to Adelaide, Australia, where he lives today. Bharat has been employed in ministry part-time since 1999.
The Nakers have been married for 32 years and have two sons. "Sawan, 24, is a law graduate. And Sajan, 22, is studying hotel management. Sawan was born in London, Sajan in Sydney."
Of Urvashi, Bharat says, "I would not be in ministry without her—quite literally. When I joined the church, interracial marriage was not an option. God provided a person known to me, of my own background, who came along to church and upon marriage opened the opportunity for us to go to college and hence into ministry. We have ministered together, except possibly in preaching—though she's my best source of feedback in that area!"
Bharat said what he enjoys most about being a pastor is "learning and then teaching as I learn and grow. Also loving and being loved." When asked about GCI, he said, "One way or another, our belief system (though having changed and grown radically) has always allowed room for people to ultimately come to God, sooner or later. This has been critical for me, as most of my family, including my beloved mother and father, did not (as far as I know) come to know Christ as believers in this lifetime."
His most memorable moment as a pastor involved baptism. "The first baptism I performed on my own was in India for a wonderful man who had been born so small that I could carry him in my arms and had to baptize him in a large round plastic bin (we were in a hotel without bath tubs)."
Because of local church size and finances, Bharat went part time. "I now run my own small business importing jute shopping bags from India and selling them in Australia and elsewhere as opportunity permits. Not quite tent-making, more like bag-making." Being in business gives Bharat opportunity to feed his passion, which is "connecting with people, connecting people to others, hopefully making a difference as Christ works in and through me."
An example of this connectivity happened last June when Bharat was visiting London where met up with David Nunn, his school teacher from 40 years ago (see the mention of David above). David learned for the first time of Bharat's Christian journey and was most pleased. David has produced seven DVDs about the Holy Land that sell in some of the same religious stores in Australia where Bharat sells his jute bags!
Bharat says he feels closest to God "at various times in various ways. It may be singing in a congregation or singing on my own to a Bollywood romantic song adapted in my mind and heart for personal worship expression, or when preparing a message where a clearer insight is gained or when reflecting on creation or simply on seeing people going around in crowded places, praying in the knowledge that the Lord loves us all."