Here from his daughter Becky (Halford) Brown, is a praise report concerning John Halford. John, a long-time GCI leader and editor, recently underwent surgery in his battle against esophageal cancer.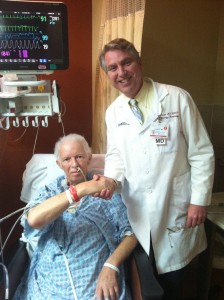 Dad's doctor just came in smiling from ear to ear and pronounced my dad CANCER FREE!!! His pathology report indicated that no live cancer cells were found in his body following surgery. They got it all! No more radiation or chemo is needed.
We are so very thankful for each one of you. Your support and prayers got us through this difficult time. We have a whole new view of cancer and the "fight" required to get through it. Dad fought hard and we give every bit of the credit to God working through the amazing doctors to bring about this wonderful outcome.
Dad still has a long recovery ahead but somehow it just got a lot easier. We can't wait for Thanksgiving this year. We have so much to be thankful for.
Cards may be sent to:
John & Pat Halford 5836 South State Road 129 Versailles, IN 47042