The family of GCI member Annetta "Genevieve" Brown is delighted to report that Genevieve will celebrate her 100th birthday on October 23. In tribute to Genevieve, they have shared this article.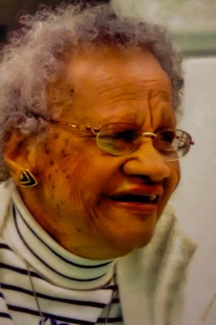 Genevieve attributes her longevity to following God's teachings, practicing a healthy lifestyle with nutritious eating and regular exercise. She believes that her body is a temple of the Holy Spirit as stated in 1 Corinthians 6:19-20. She also has drawn strength from the promises in Romans 8:28 and Psalm 23 that God will see her through life's trials, with Jesus, her shepherd, leading and guiding.
Born in Howard County, Maryland, Genevieve married her first husband, William Steward. They were married for 25 years and had three sons together. After his death she married James "Toby" Brown. They were married for 47 years until his death. She was a domestic worker for many years and sold Avon cosmetics for 40 years, winning numerous awards for her sales achievements.
Genevieve became involved with WCG in the early 60s after hearing The World Tomorrow radio program. She contacted Pastor Guy Engelbart in Baltimore and was baptized shortly after that. She has been a faithful member ever since, volunteering in many capacities and always sharing her wisdom with others. She loves attending church picnics, dances and other social activities. In 1965 she started travelling to church festivals in far-flung places like China and Trinidad.
Genevieve was instrumental in starting church services and Bible studies at Village Oaks Apartments where she now lives. Before moving there, she loved canning her own vegetables from her garden and sharing them with others. She still cooks her own meals and bakes delicious cookies and bread. She also is a member of a walking club and now walks the hallways where she lives for exercise.
Genevieve has many wonderful memories of the love she has received from her church family and relatives and is very much aware of God's love for her. She is the oldest member of New Life Fellowship, the GCI congregation in Baltimore where Timothy Brassell serves as senior pastor.
Please join us in wishing Genevieve a very happy birthday! Cards may be sent to:
New Life Fellowship P.O. Box 1417 Owings Mills, MD 21117