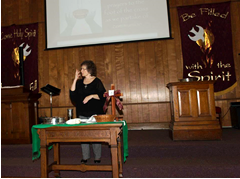 Hands for Christ, a newly planted GCI church in Staten Island, New York, celebrated its second anniversary on September 14, 2014. Sixty-seven adults and eight children attended. According to pastor Mary Bacheller (shown preaching at right):
It was a day where our deaf members did most of the service and the testimonies were great. We are growing and excited about the ministry that we are doing. The live-streaming of our services is going out to two GCI church plants in the making. The hands of the people are truly moving hearts!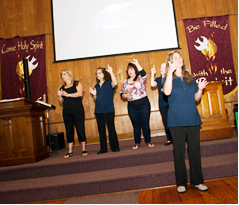 The anniversary worship service included a performance from the deaf choir (pictured at right) and testimonies from deaf members who offered heart-felt thoughts concerning their new church home. Here are excerpts from the testimonies given by three of them:
I came to this church two years ago and it has made a big difference in my life for me and my two daughters. I thank Hands for Christ that I can come to a safe place to worship and learn about God. [Debbie Strang, pictured below, left]

I have gone to other churches because I want to learn about God, but just would sit there and not understand very much. But when I heard about Hands for Christ church, a church for the deaf and by the deaf (Pastor Mary is like deaf!) I was so excited. I feel safe here. [Linda Mancini, pictured above, center]

I am very thankful to be here in this church, I have learned so much here about Jesus and how to have a relationship with him. I feel at home here…this is my home church. A church for the deaf. [Diana O'Shea, pictured above, right]
Following the service, the congregation enjoyed a time of fellowship (see picture below).