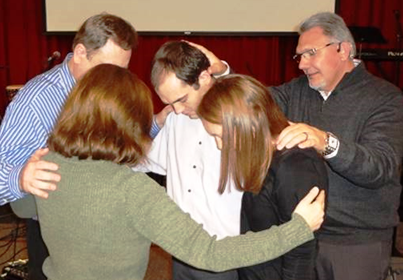 It was a day of mixed emotions recently at Christ Fellowship Church (one of GCI's churches in the Cincinnati, Ohio area). The congregation said good-bye to their senior pastor Rick Shallenberger and his wife Cheryl who have served them for 12 years. They then celebrated the installation of their new senior pastor, Dustin Lampe, who serves with his wife Rachel.
CAD director Greg Williams (pictured above, right) was present and gave specific charges to the congregation before he and Rick commissioned Dustin. Rick then passed the baton of leadership to Dustin (see picture below). After the baton-passing ceremony, Greg commissioned Rick as a U.S. regional pastor. A meal for the congregation followed the service.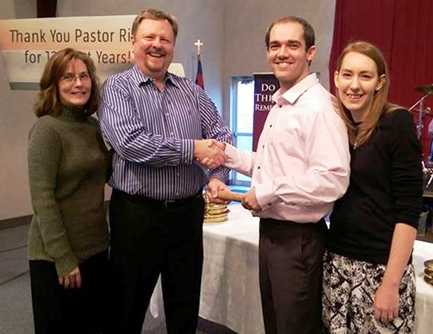 The oak baton used in the ceremony was made from an ancient tree located on the grounds of a Wesleyan church in Minnesota. The display (pictured below) was crafted by CFC elder Mike Lockard.
Reflecting on the day, Dustin posted this comment on Facebook:
Twelve years ago I was beginning my journey in church ministry by voluntarily teaching Sunday school class to teens. At about the same time my current church was beginning a journey with a new senior pastor named Rick Shallenberger. I didn't have the foggiest idea where I was going with it or why I felt so compelled to teach. Now I see that God knew.

This past Sunday, I was commissioned as senior pastor of a most wonderful, down to earth, good-hearted church. Rick graciously and selflessly empowered me to take over what many would consider the dream job that was his. Christ Fellowship Church was of the same mind, patient with me and always willing to find reasons to accept my approach and the changes that have resulted.

Faith is present at times like these and even seems more real than "certainty." Certainty is its own end, but faith opens up the world into a greater mystery. Because of the faith of Christ, I am filled with wonder and awe and belief in God and his unrelenting pursuit of people. Because of Christ, I am filled with hope and energy to believe in God's love for all, from the wealthy and satisfied to the broken and downtrodden. I will not discriminate between the two.

Many are now looking at me with a great expectation that I will be a fine senior pastor for them. I realized this with the utmost of awareness on Sunday. I have never been one to enjoy a lot of attention on myself. But a funny thing happened as I was struck with the awareness of the expectations of my new role. I had a series of images flash through my mind of times in my life when I felt at peace. And the still small voice said, "so it is now."

And so I rest easy in the arms of my Father in heaven. And I wake up working like crazy each day (except one) glad for the opportunity to be united completely in my heart and mind as a testimony to a God who is good!