Jannice May, president of Connecting and Bonding, hosted the annual Lexington, Kentucky conference for pastor's and minister's wives on March 13-15. Women came from various parts of the country to enjoy the time together.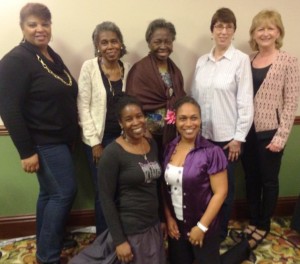 Jan Taylor kicked off the conference with a devotional showing how much God loves us. Keysha Taylor led the group to "the heavenly places" in worship. Powerful, heartfelt messages were given by Leslie Howard, Alma Smith, Doreen Ray, and Leigh Sniffen. A concert of praise was given by Edna Barr, Tamar Gray and Keysha Taylor. The group also heard an audio-taped message from Naomi Beard, who, over the years, has served as a valued mentor to the group. Little did they know that this would be Naomi's last message—she died of a heart attack just a few weeks ago.
Jannice honored the wives of retired pastors for their many years of service to the church. These women truly are a gold mine of godly wisdom. The group ate, sang, laughed, cried, prayed and played together. They left feeling pampered and loved with "full cups and full hearts," ready to face the joys and challenges of participating in ministry with Jesus.