Employees in GCI's Home Office recently gathered for a luncheon to honor Janet Shay for her 37 years of faithful service as an employee of Grace Communion International. Janet retired in January.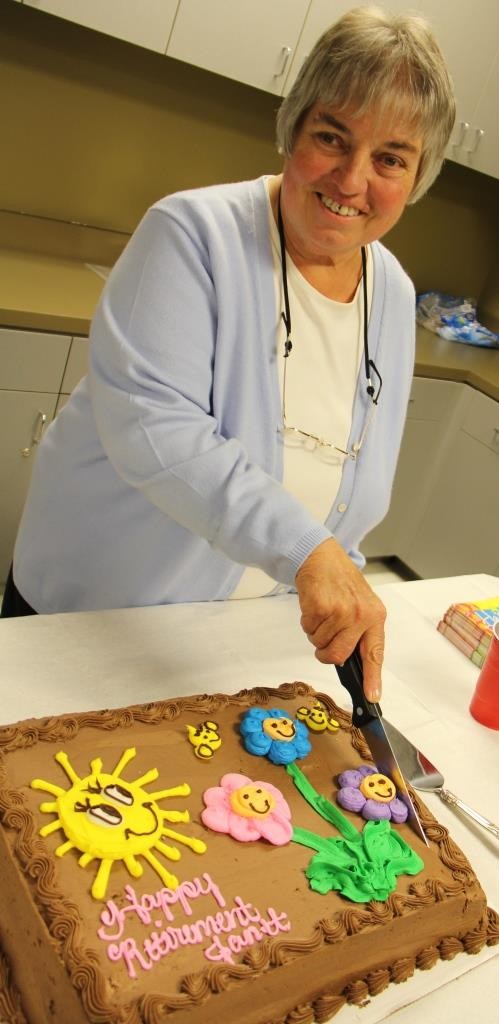 Janet, who was originally from Oregon, started working for GCI while attending Ambassador College in Pasadena, California. Like most AC students, she held a variety of jobs during her college years, working in the custodial departments and then as a keypunch operator and terminal operator in mail processing. During her college years, Janet traveled to Israel to serve on the student archaeological project in Jerusalem. She then transferred to AC in Big Sandy, Texas, where she graduated with a Bachelor of Arts degree before returning to Pasadena to work there in the AC registrar's and admission's office. Janet married her husband Gary in 1971.
After taking time off from full-time work to be with her family, Janet returned to work in GCI's personnel department, first as a secretary and then as a benefits specialist, risk/benefits manager and finally human resources manager where she served until her retirement. As human resources manager, Janet was responsible for both risk/benefits administration and the human resources functions with the able assistance of Maureen Warkentin. During her tenure with GCI, Janet held several professional designations including Certified Employee Benefit Specialist (CEBS) and Senior Professional in Human Resources (SPHR).
During the luncheon, Dr. Joseph Tkach, President, and Mat Morgan, Treasurer (pictured with Janet at right), recounted with appreciation Janet's work history with GCI, to the applause of the other Home Office employees. They presented Janet with a large card signed by the employees and a gift card.
Please join us in expressing appreciation for Janet's faithful service to the Church, and wish her a wonderful retirement with much reading, gardening and time with her grandchildren. Notes of appreciation can be posted in the "comments" section below, or emailed to janet.shay@live.com.
---
Please note: Maureen Warkentin now serves as GCI's Human Resources Manager and Cheryl Corson serves as the Risk/Benefits Manager. Both can be emailed at humanresources@gci.org. Maureen can be phoned at 626-650-2372, and Cheryl at 626-650-2352. We thank these women for accepting these additional responsibilities.