Here are reports from two recent GCI youth camps.
YES Camp, Louisiana
This Generations Ministries camp was held in July at Fontainebleau State Park on the shores of Lake Pontchartrain, north of New Orleans, Louisiana. The camp had two sessions: one for teens and one for preteens. There were about 60 campers each session, with a staff of 45 led by camp director Brandon Antwine. So many signed up this year that a waiting list was implemented for the first time. This year also saw the expansion of the camp's Youth Leadership Team, which consists of older teens and young adults preparing for future leadership at camp and back home.
Camp chapels followed the GenMin Epic Story curriculum. Chapel speakers, led by camp chaplain Anthony Rice, showed how God's love and mercy follow us in everyday life. One of the speakers, GCI regional pastor Ted Johnston, presented Anthony with a plaque and watch celebrating his 25 years of employment with GCI (including many years leading camps).
Various camp activities were provided this year. Teens enjoyed team/character building exercises and a banquet, where they were treated like royalty. According to Brandon, "It was a great feeling to watch God take over and lead us to greatness during camp." Like the teens, the preteens enjoyed a wide array of sports activities including tubing (on nearby Lake Pontchartrain), arts and crafts, inflatables, basketball, swimming and volleyball. Here is a video from the teen session (http://youtu.be/PPguxNH98dM):
SEP 2015, Bahamas
On July 22, 18 campers and 15 staff members boarded a ship in Nassau, Bahamas and headed for Moores Island to attend SEP 2015. While on board, staff members were on security shifts throughout the night. Upon arrival they were greeted by staffers and campers who had arrived five days earlier, joining with church members there to prepare the camp. Later that afternoon more campers and staff arrived on a speed boat from Freeport.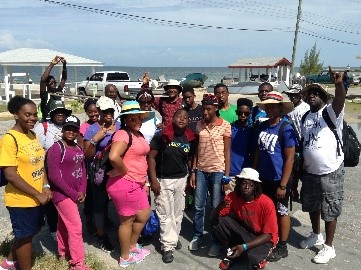 Camp chapels followed GenMin's Epic Story curriculum. Activities included basketball, volleyball, fishing, hiking, arts and crafts, novelty Olympics, a beach picnic, and community service where campers and staffers helped in painting the GCI Moores Island church building. The camp then joined in a worship service with the congregation, which is pastored by Robert McKinney. The congregation presented care packages from parents at home to each camper. A talent show topped off the evening. A highlight of the camp was a special dinner at which campers dressed as princesses and princes. The hall was elegantly decorated by one of the staff members. Campers were given certificates of completion for taking part in camp and special recognition was given to each staff member.