Here is part 8, which concludes an 8-part essay by Dr. Gary Deddo titled "The Christian life and our participation in Christ's continuing ministry." To read other parts, click on a number: 1, 2, 3, 4, 5, 6, 7. For all 8 parts combined in one article, click here.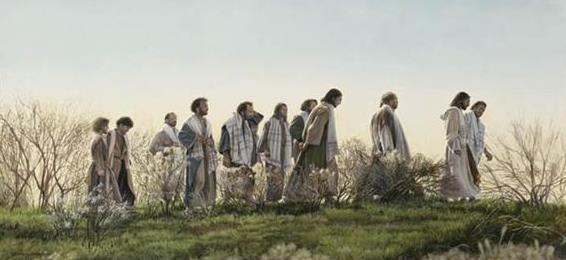 Recap of part 7
In part 7 of this series we saw how the indicatives of God's grace always provide the foundations and motivation for our obedience to the imperatives (commands) of God's grace. We saw how this means we need to make sure our understanding of God's grace fits this pervasive biblical framework. In this concluding issue in this series we will continue to unfold what the grace of our union with Christ looks like in relationship to him. That grace is not a "sloppy agape" where anything and everything goes. God has far more in store for us than that. We conclude by noting that in our gracious union with Christ we live by faith, hope and love.
The grace of God's "no" to our "no"
God is eternally and implacably opposed to sin, whether in the world or in us. In his divine providence, sin and evil have no future. God would not be gracious if he were not committed and able to bring to an end all sin and in the end make things right. God has said "yes" to us in Jesus Christ. When we say "no" to God and his grace to unite us and transform us, then God says "no" to our unbelief. He says "no" to the disobedience that comes from our distrust of God and his character as revealed in Jesus Christ and according to Scripture. God is opposed to all that is against us and against his gracious will for us. If God did not say "no" to what is evil, God would not be gracious. If God did not say "no" to our "no," he would not be gracious. But note this: when God says "no" to our "no" to him, he is not changing his mind or his heart or his purposes towards us. By negating our negation of his grace, he is reaffirming his "yes" to us in Christ. He says, "No, I said yes!"
How strongly does God object to our rejection of him and his love and grace? Just as strongly as his love for us is. For it is because of his love for us that he rejects our rejection. If he did not love, there would be no reason for him to bother in objecting to us. His "no" to our "no" is just as strong as his "yes" to us because it is an expression of his "yes" when it meets up with our "no" to him. God's love and resistance to us (his wrath) are not opposed to each other. His wrath serves his loving purposes. His wrath is to get us to see the error of our ways and to turn around and receive his grace. His anger serves the same purposes as his love: to bring us into right relationship with him through Christ and by the Spirit.
The grace of God's judgments
And what about God's judgment? We know God's ultimate purposes because we see them revealed in Jesus Christ and hear of them in Scripture. Jesus came into the world because of God's love. He did not come to condemn the world but to save it (John 3:17). God's will and heart is that all come to repentance and receive his unconditioned grace—his freely offered forgiveness. He does not wish that any eternally perish. Christ died for all. So whatever we think about God's judgment it should not contradict or call into question Jesus Christ and his revelation and accomplishment of the will of God. How can we do that?
God's judgment is his "no" to our "no," his "no" to our unbelief and disobedience. God's judgment reinforces his gracious and saving purposes. God recognizes evil and is absolutely opposed to it. It will all be done away with in the end. But God, in his grace, judges our sin in Christ—he exposes it for what it is, shows us the truth about it, sorts things out so that we are released from deceit, even self-deception, so that we repent of it, let go of it, and turn to God to receive his freely given grace and forgiveness. God will use whatever means (judgment) to get us, sooner or later, to recognize our sin and our need for his grace and forgiveness and for him to make right what we have made wrong, sometimes very wrong. God judges unbelief and the sin and evil that comes from it—but he judges it because he is loving and gracious. God would not be loving and gracious if he did not sort out what is evil, what needs forgiveness and restoration and do all that he can to turn around and offer up to judgment the sin and evil we have done, or that others have done to us or to others.
But note this: God's judgment is not the same as condemnation. Judgment is to prevent us from being condemned! God judges because he loves—judgment is God's resistance and "no" to our sin, even to the sin in us, so that we turn around (repent, confess) and receive his grace and the power to resist temptation and evil. God's judgment is gracious. His aim is to rescue and deliver us from evil, so that we might be saved and the sin and evil be condemned. God's purpose is not that anyone eternally perish, but that all sin, evil and unbelief be eradicated, condemned to oblivion. Only God can separate us from our sin without undoing us—but that's what he's provided for in Jesus Christ. Jesus Christ dies in our place as God does away with our sin and evil. But Jesus Christ is raised and ascends to eternal life with the Father so that we too may die and be raised with him into new life delivered from all sin and evil. Anything less would mean that God is not gracious. Only those who somehow might manage to reject God's judgment will face the prospect of being condemned with their sinfulness.
Scripture and its warnings, including the teaching of Jesus, leave open the possibility that some might face condemnation. It's presented as a real possibility. But that is not because condemnation is God's purpose and heart and mind towards any of his creatures—those created in his image, created in, through, and to (as an inheritance) Christ. No one has to face condemnation. But if anyone does, it will be because they somehow have come to a place where they reject God's judgment and absolutely refuse grace, refuse his forgiveness, refuse to receive and live out their life of union and communion with Christ. That is, they somehow finally reject and deny the reality of who God is, who they are, and what he has done for them in Christ. They will not be condemned because of some kind of arbitrary limit to God's grace, but because of their final and absolute repudiation and hatred of God and his grace, mercy, love and goodness. The reality is that God's gracious judgment in Jesus Christ in our place and on our behalf is what God does to prevent anyone from experiencing final condemnation.
God's gracious work of sharing in Christ's sanctification for us
For those who are receiving God's grace, the sanctifying work of Christ brought to completion in us by the Spirit's glorification will leave no trace of sin in us. It will, one day, all be done away with, and that's a very good thing! Think for a moment: what would it be like in heaven if it were full of people for whom God had made a few little exceptions here and there? Wouldn't it be fairly much like the condition we find ourselves in today? The only difference is that we'd be in that condition of injustice eternally! Where would be the grace in that? Grace is God's forbearance, God's patience, God's long-suffering. But in the end there will be no exceptions for sin. Evil has no future.
God accepts us where we are unconditionally, in order to take us where he's going, just as unconditionally. No exceptions! Grace means that God is for us and will not give up on us, no matter how long it takes or how far we have to go, or how many times we fall. God would be less than gracious if he only met us where we are and then left us there! He'll pick us up because our whole salvation is complete for us in Christ and we belong to him. United to Christ, all that is his is ours. So Paul tells us that Jesus Christ is our wisdom (about God) our righteousness, and he is our sanctification (1 Corinthians 1:30 ESV). By his indwelling Holy Spirit, we are meant to share even in his perfectly sanctified humanity.
What God in Christ has done for us, the Spirit works out in us. So Paul can say: "I live, yet not I, but Christ in me" (Galatians 2:20). We do not work up our own knowledge of God, our own righteousness, our own sanctification. But we share by the Spirit in what is his! This is all of what we receive when we receive him who gave himself for us (Galatians 1:4; Ephesians 5:2; Titus 2:14).
Grace is God's faithfulness to see us through to his perfect end, even if we sometimes resist or are ungrateful, or only want his blessings because we prefer it to hell! The gracious love of God is implacably committed to perfecting us with Christ's own glorified humanity. True love longs for the perfection of the beloved.
Can we preach too much of this kind of grace? No! We preach the inexorable love of God, who will not give up on us and has pledged himself to see us to the glorious end of being his children through Jesus Christ. Isn't this the way to lead people to a faith, hope and love that trusts and believes that "He who began a good work in you will bring it to completion" (Philippians 1:6 ESV)? We have a hope that knows God desires our sanctification, and believes as Paul tells us that, "He who calls you is faithful; he will surely do it" (1 Thessalonians 5:24 ESV). Can we believe this promise too much? Can we count on God too much to provide us with even our sanctification in Christ (1 Corinthians 1:30 ESV)? The answer is no! God is abundantly gracious because he makes no exceptions. On that we can rely.
Conclusion: the obedience of faith, hope and love
The Christian life must be moved by faith, hope and love for God's Word spoken and living—a Word that presents a God who out of his own graciousness promises to be faithful and to give us an inheritance as his children united to Christ, who invites unswerving confidence in Christ's continuing work of ministry and the power and joy to enable us to participate in it. All our endeavors built on this foundation will reflect in word and deed the very character of God and exude a joyful trust in his continuing work.
Putting our trust in ourselves, our programs, commitments, convictions, techniques, skills, training or our sophistication and formulas, no matter how ideal, morally ambitious, or spiritually sincere, can only lead to lives that indicate a God who wants slaves not children, a God who depends upon us and who cannot be more faithful than we are, a God who begins with grace but who somehow ends with conditional blessings. The good news is that this is not the God of the Bible, nor the God we worship today. Rather, God has united himself with us, and us with himself, so that all that we think or do, we do as his children, participating with him in all that he is doing in our world now through the continuing ministry of Christ by the power of the Spirit.
The Christian life is nothing but the gracious gift of daily thanksgiving for our real union with Christ, sharing in his glorified humanity and participating by faith in his faithful and continuing ministry to us and all those around us. On this we may surely build our lives in Christ's name and live to the praise of his glory!