Here is an update from GCI mission developer Rod Matthews concerning GCI's congregations in the South Pacific nation of Vanuatu.
My wife and I recently flew with Rex Morgan to Vanuatu to visit our congregation in Naveli during their annual family conference. We were met at the airport by Vanuatu's local pastors, William Davies and Billy Taren (pictured at right with Rex). Together we traveled to Naveli, stopping along the way at village stores to buy supplies. Because the country is in the depths of a drought few fruit and vegetables are available. We bought some canned fish. When we pulled into our church grounds in Naveli I saw that they were beautifully kept, an uplifting reflection of the God we worship.
Their meeting hall accommodated the more than 60 people who attended the services held each day, which were introduced by the children singing and hymns in French and English. The rest of the service was in Bislama, the local version of Pidgin English, with translations by William Davies for the English language messages from Rex and me. I introduced them to their Melanesian brothers and sisters in the Solomon Islands and Papua New Guinea. I wished there had been electricity and the equipment to show pictures. God places us in the Body as it pleases him, and his pleasure is seen in the people of this congregation—remote but a vital part of a globe-girdling entity. We talked about how Jesus is the focus of our life and work, of how he came to reveal the Father, of how his presence in us through the Holy Spirit means we will reflect his characteristics such as humility and service regardless of where we live, of how he embraces our humanity through the events of his life, and the special significance of his resurrection to us and all humanity.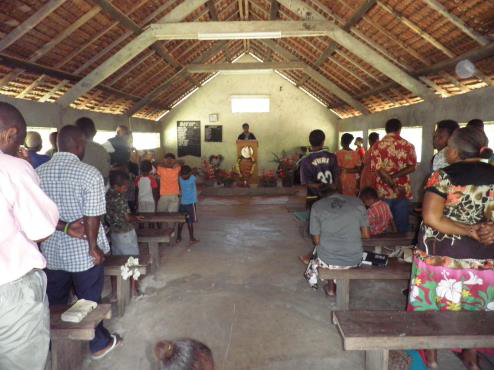 On the day before we left, we drove a few miles along a narrow rough track to a pool in a barely running stream coming down from the mountains to baptize two young people—Dao and Maria. The day was hot and the water was cool. In this most idyllic location, they made a public acknowledgement of their salvation in Christ, and we all rejoiced with them.


As a fellowship, we can thank God for the faithfulness of the local people, ably led by local pastor Billy Taren, with the coordination and dedicated, long-time support of elder William Davies who lives on the northern island of Santo and who travels to the church once every 2-3 months. Special thanks also goes to Rex Morgan who, in his love for the people there, has traveled to Vanuatu at least once a year for 37 years to provide pastoral guidance and encouragement and to keep strong their link with our church in New Zealand. In the words of Paul in Romans 15:33, we say to our brothers and sisters in Christ in Vanuatu in their native language, "God yu we i stamba blong pis blong yumi, hem bambae i stap wetem yufala evriwan" (which in English is "The God of peace be with you all").