Dear fellow worshippers,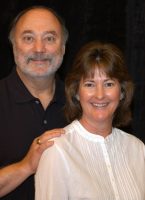 I recently saw an anonymous blog post titled, The Church Service of the Future. I think you'll enjoy this slightly modified version:
Pastor: "Praise the Lord!"

Congregation: "Hallelujah!"

Pastor: "Please turn in your tablet, iPod, iPad, cell phone, PC or Kindle to 1 Corinthians 13:13, then switch on your Bluetooth to download today's sermon notes. You can also logon our church Wi-fi using the password, ILOVEGCI777."

[P-a-u-s-e]

Source

"Now, let's pray, committing this week to God. Please open your Apps, BBM, Twitter and Facebook and let's chat with God…"

[S-i-l-e-n-c-e]

"And now as we give our tithes and offerings, please have your credit or debit card ready. Those preferring electronic funds transfer, go to one of the laptops at the rear of the sanctuary, or use your iPad or iPod. Those preferring telephone banking use your cell phone to transfer contributions to our church account."

[As the ushers circulate, mobile card swipe machines in hand, the holy atmosphere becomes electrified as cell phones, iPods, iPads, PCs and laptops beep and flicker.]

[Then at the end of the service comes the final blessing and closing announcements:]

"This week's ministry cell meetings will be held on the various Facebook group pages where the usual group chatting takes place. Logon and don't miss out! Thursday's Bible study will be held live on Skype at 1900 hours GMT. Don't miss out! This weekend you can follow me on Twitter for pastoral counseling and prayer. May God bless you—have a wonderful week."
While I enjoy the use of technology to enhance church services (and I've been known to use my phone to look up a Scripture from time to time), I think you'll agree that technology cannot replace worship: It can't replace prayer, it can't replace study groups or small groups, and most importantly, it can't replace fellowship and the sharing of the story that gives shape to and explains why we worship.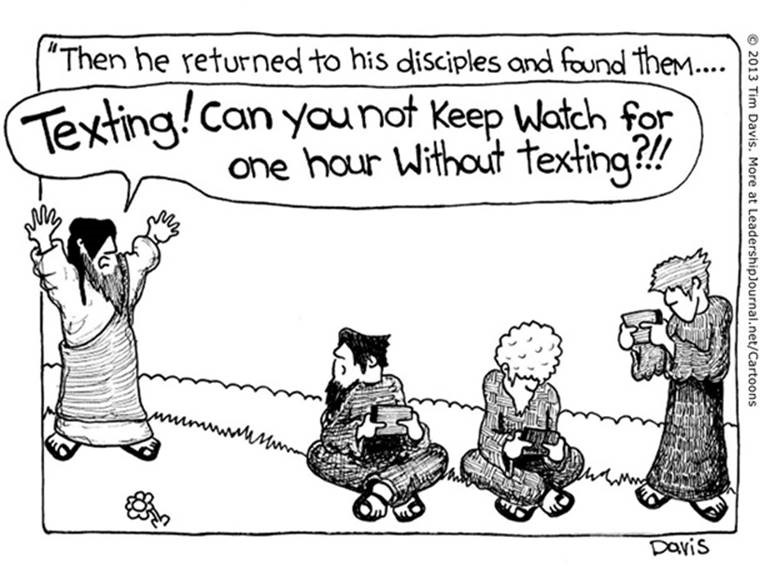 A story of real relationship
Authentic and true worship is about a story of real relationship that affects all humanity. That story tells how the world became dysfunctional due to the sin of its inhabitants who developed a storyline other than the one their Creator intended. It tells how humanity rejected God, seeking its own way, leading to lawlessness, jealousy and hate. But it's also the story of God and his gift of redemption, forgiveness, adoption and love. Were we to focus only on humanity's side of the story, we'd have no cause for worship. But God has written already the end of the story, and continues working to bring it about. The story tells us that our Creator became our Redeemer and that our Redeemer is Jesus—the truth who sets us free (John 14:6; 8:36). By, through and in him we worship God in gratitude for the fact that we are included in God's story—a story that tells us how God got involved in the chaos of humanity's mess and redeemed and restored us so we might fulfill his purpose for all creation (humanity included).
Created for worship
Human beings were created to worship their Creator and Redeemer with all they are and all they have. For humans, the ultimate fulfillment in life is being in right relationship with God. We see that fulfillment in the Person and work of Jesus who not only shows us who God is as Father, Son and Holy Spirit, but show us who we are as humans in right relationship with God. Jesus shows us that we were created to love God with all our heart, soul, mind and strength, and to love our neighbors as we ourselves are loved by God. In Jesus, we hear and see this purpose lived out to perfection. He alone perfectly fulfills the two great commandments that sum up all of God's will and ways. And by the provision of his grace, accomplished in his cross, resurrection and ascension, Jesus has included us in his circle of perfect relationship and, by the Spirit, calls us to participate in his ongoing worship of God and his love for all people.
Embrace the true narrative, reject the false
Various religions have devised narratives to describe their particular conception of God and his relationship to the world. Some of these conceptions are noted in the chart below. We believe that the most accurate understanding of who God is and how he is related to the world is found in Scripture and in the creeds of the early Christian church—a narrative identified below as Trinitarianism (under Monotheism).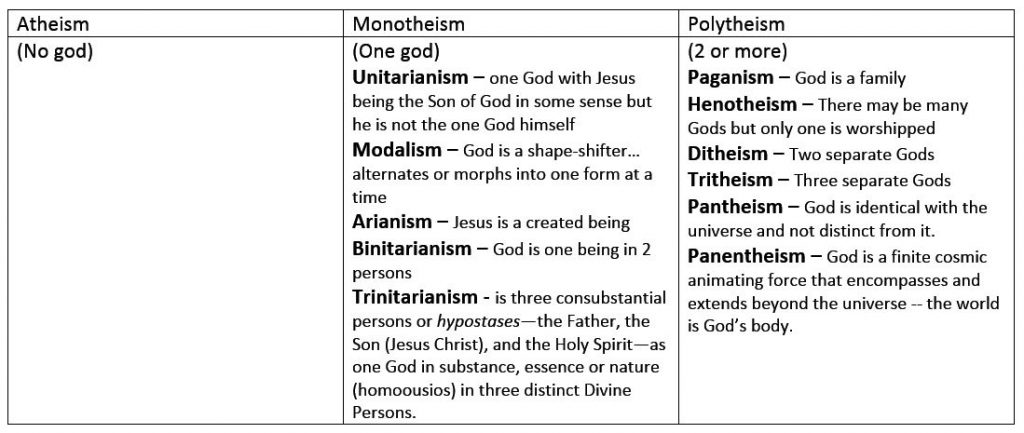 One of the other narratives is Panentheism (under Polytheism). It's gaining popularity in North American and Western culture, with some offering a "Christianized" version (Christo-panentheism) in which the God-world relationship is seen as a unity of being between the triune God and creation. Although those who teach this story acknowledge that there is more to God, creation is held to be naturally divine and naturally in right relationship with God—a relationship that is built-in, behind-the-scenes, on auto-pilot. This relationship requires no costly personal intervention by God to put things right. The "unity" and "love" in this narrative is impersonal, requiring no repentance or transformation, and no worship. It's a very different story than the Christian gospel of Jesus Christ. Nevertheless, Christo-panentheism's easy and automatic nature makes it attractive to some Christians. In this issue we've included an essay that I asked Dr. Gary Deddo to write to spell out for us the key elements of Christo-panentheism, showing how it diverges from the biblical narrative revealed in Jesus Christ. I encourage you to read it carefully.
The heart of worship
The story of our Triune God (which includes creation, incarnation, crucifixion, resurrection and re-creation) shows forth the glory of God and the true nature of our ongoing relationship with God. The dynamics of the relationship between the Triune God and his creatures, through Christ, and by the Spirit, is the heart of worship that is authentic and true. This worship not only involves praising God for including us in his story—it also has to do with participation in that story in our individual lives and in the life of the church. This worship occurs in churches where the truth about what God has done and is now doing is lived out in his people.
Appreciating worship that is authentic and true,
Joseph Tkach