Shirley Henderson, wife of James Henderson, GCI's National Director in Great Britain, submitted this report of a recent church "getaway" made with 29 people to the Mediterranean island-nation of Cyprus.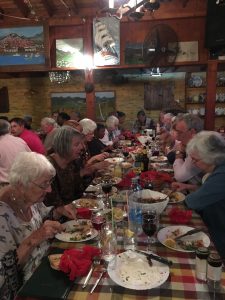 One could hardly ask for a lovelier and more relaxing setting than on the shore of the Mediterranean Sea in Paphos, Cyprus for a winter getaway! The weather was very kind—warm enough for sunbathing if desired, as well as for strolls along the seafront into the harbor area.
A worship service with the theme of "Be encouraged" was held every day, usually in the late afternoon before dinner. The connection was that Barnabas, who was called the Son of Encouragement, came from Cyprus, and he accompanied Paul, Luke and John Mark on Paul's first missionary journey, where the Roman governor of Paphos became a Christian.
A visit to archaeological sites of Biblical relevance helped to bring it all to life more vividly. In addition, there were excursions to other sites of historic interest as well as a fabulous wine tasting meze meal at the highest vineyard in Cyprus which boasted spectacular views and a visit to the highest point on the island, the Olympus peaks, where we were amazed to encounter a considerable amount of snow.
A "meze" consists typically of anything from 15 to 30 sharing plates, featuring such specialties as the famous Cypriot halloumi cheese and delicious local olives. We also had the opportunity to experience another meze meal at a traditional tavern, with much fun and laughter.
One of the highlights was "praise under the stars" on the beach, and it was very special when we sang the line "I see the stars" from How Great Thou Art. I think everyone who came, went home refreshed and rejuvenated.