Dear Brothers and Sisters,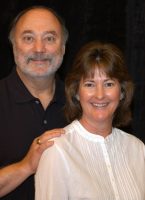 I'm sure you've noticed that the messages dominating the media are often opposed to what Scripture teaches. It's rare to see a commercial on television encouraging us to reach out in self-sacrifice to serve others. Instead, the media constantly repeat materialistic, self-focused messages that say Me first! My wants! What I can have! That is one of the reasons I don't like watching TV commercials. Tammy and I dislike them so much we record everything we watch on TV so we can fast-forward through the commercials.
Scripture teaches us to minister to others in self-sacrificial ways—giving away our time, talents, energy, finances and commitment. But the biblical message of self-sacrifice often is drowned out by the "noise" of a consumeristic culture. I can hear the self-indulgent jingle now: You deserve a break today!—a message often heard as "abandon responsibility and think only about yourself." It is the opposite of the self-sacrifice lived and taught by Jesus: "For whoever would save his life will lose it, but whoever loses his life for my sake will find it" (Matthew 16:25, ESV).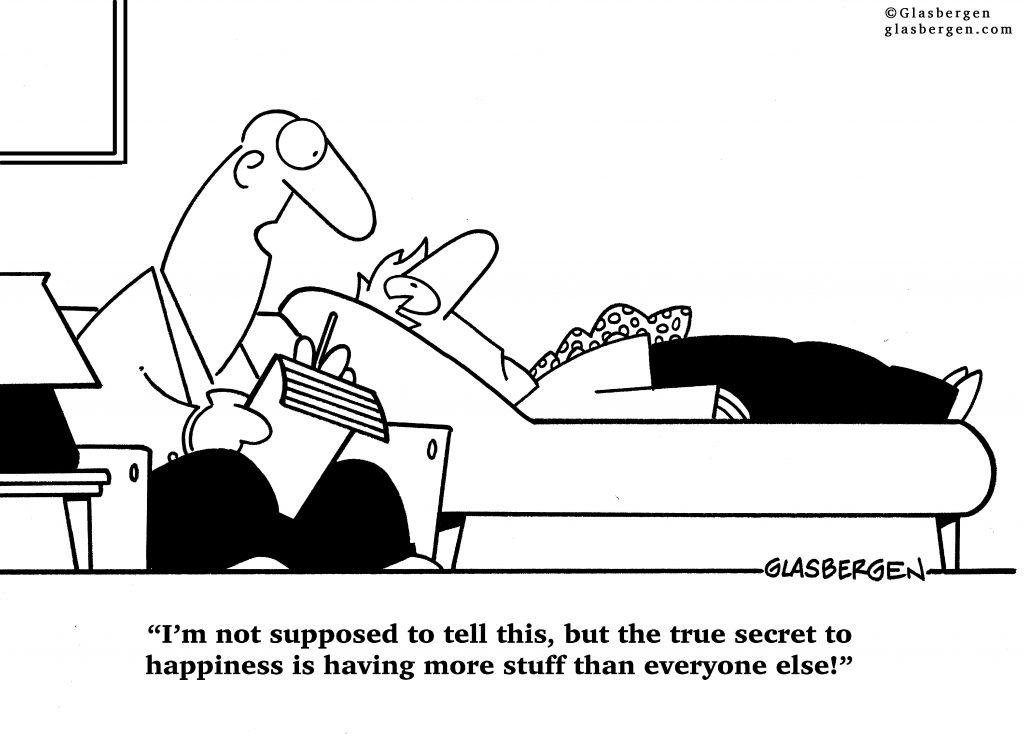 Please don't misunderstand. Self-sacrifice is not about abandoning all desire for good and enjoyable things. I chuckle when someone, having been asked what they have denied themselves in order to follow Christ, reply with a list of sinful behaviors they have given up. Is it really self-sacrifice to refrain from murder or adultery? No, authentic self-sacrifice is grounded in the realization that life isn't all about the self—it's about being in relationship with the Father, Son and Spirit. It's about knowing who God is, and who he is in relation to us and others. It's about acknowledging the invitation we've been given to participate with the Father in what he is doing through the Son and by the Spirit to fulfill his mission for the sake of the world that he loves. Self-sacrifice is about following Jesus' New Commandment to love others just as he loves us. It's about being willing to give up whatever is necessary in order to share God's love and life with others.
Ultimately, self-sacrifice is more about a who than a what. It's about God the Father sending his Son in the power of the Spirit to show us who God is and what he desires for all humanity. In that regard, we should not miss how Jesus honored small acts of self-sacrifice. Think of the boy who gave up his lunch and more than 5,000 were fed. Or consider the widow who gave her last coins as an offering. We should see these acts for what they are—sacrificing the self to serve others. Such acts reflect the heart and mind of God the Father who, in order to give us eternal life, sacrificed his only begotten Son at infinite cost to himself. The cross of Christ proves that God loves us so much he is willing to suffer loss for our sakes. In his self-sacrifice to serve us, God did not lose any of his dignity or worth. His self-sacrifice is one of the reasons we sing that he is "worthy of worship."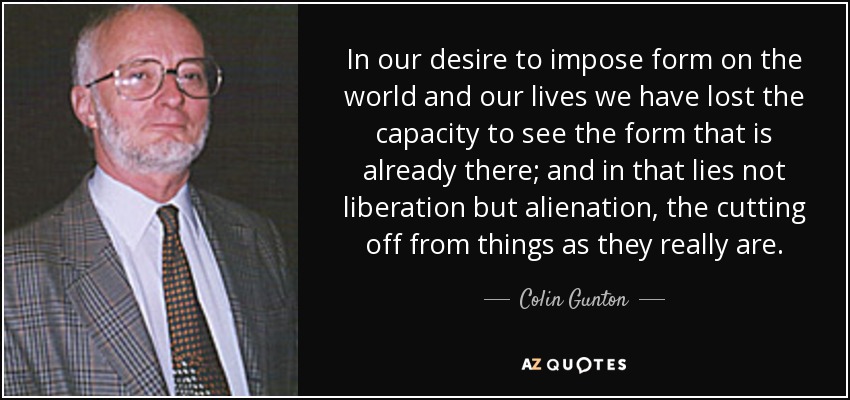 British systematic theologian Colin Gunton (pictured above) was fond of saying that to properly understand Christian doctrine, we must learn to think trinitarianly:
If you want to understand how God works in our world, then you must go through the route God himself has given us: the incarnation of the eternal Son and the life-giving action of the Spirit. Let me repeat: the Trinity is about life. Irenaeus is the writer of that great sentence, often heard from him: "The glory of God is a human being truly alive." The Trinity is about life, life before God, with one another and in the world. If we forget that God's life is mediated to us trinitarianly, through his two hands, the Son and the Spirit, we forget the root of our lives, of what makes for life and what makes for death.
Thinking trinitarianly informs us about God, about human nature, and the nature of the church. When the Bible tells us that we are created in God's image, it is not talking primarily about an innate human capacity. Rather it is telling us about the form of human existence corresponding to God's relationship to us. To be authentically human, we are to image (reflect, correspond to) who God is in all that we are.
As an echo of the life of God, the church should reflect the kind of being God is—a being in relation—a communion. Jesus came to reveal what God is doing and what he has in store for us. He came as a true human being and took on human nature—our defective, fallible flesh; yet, he remained sinless. Sometimes I ponder how Jesus did that. It was not from a built-in divine programming, but because he freely and totally relied on the moment-by-moment guidance of the Holy Spirit in his human life. Even while living in human flesh on earth, Jesus' relationship with God the Father and God the Spirit remained in unbroken communion. As the apostle Paul explained, "In Christ all the fullness of the Deity lives in bodily form" (Colossians 2:9).
Gunton wrote about what it means to be a human person:
Among the great achievements of those who have thought trinitarianly is the concept of the person as a living whole rather than as a mind encased in matter. How it came about is a complicated and difficult matter to describe, but it is one of the fruits of the trinitarian teaching that God is three persons in one being. By thinking about the Trinity, the early theologians came to realize that they had come across an entirely new conception of what it is to be personally. To be is not to be an individual; it is not to be isolated from others, cut off from them by the body that is a tomb, but in some way to be bound up with one another in relationship. Being a person is about being from, and for and with the other. I need you—and particularly those of you who are nearest to me—in order to be myself. That is the first thing to say: persons are beings who exist only in relation—in relation to God, to others and to the world from which they come.
The real truth of human nature is found in Jesus Christ and in him alone. We must see that God's affirmation of humanity as "good" is fully realized only in Jesus. T.F. Torrance put it this way:
Jesus Christ is the Word by whom, for whom, and in whom we have been created in the image of God, so that in his Incarnation as Immanuel, God with us and for us and in us, he is the secret of our creation and redemption―in him we may now penetrate through all the distortion, depravity and degradation of humanity to the true nature of man hidden beneath it all.
As we follow Jesus, responding to God's call in our lives, the Holy Spirit leads us in a "Christomorphic" direction—the way of self-sacrifice. Indeed, the true nature and dignity of humanity is established and disclosed in the human nature of Jesus. True self-sacrifice is giving up our autonomous self and self-will in order to more fully live in Christ. Our true personhood, our true dignity, thus lies not in ourselves alone, but in union and communion with Jesus. In Jesus, by the Spirit, we think and we live trinitarianly.
Enjoying the life that is ours in union and communion with Christ,
Joseph Tkach
PS: Because our publications team will be at the GCI Denominational Conference in Orlando, we will not be publishing Weekly Update the next two weeks (August 2 and August 9). Our next issue will be published on August 16. I'm looking forward to seeing many of you at the conference!