For several years, Grace Family Church of Providence, RI (a GCI congregation) has sponsored a Volunteer of the Year award, presented to residents of the community where the church meets who have distinguished themselves in unique ways in service to the Lord. The congregation recently announced that the recipient of the award in 2018 is Suzanne D. Cozzi, wife of the congregation's pastor, Luciano Cozzi. Several guests from the community attended the service (below, left) where the award (below, right) was given to Suzanne.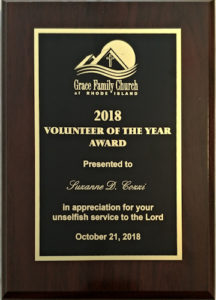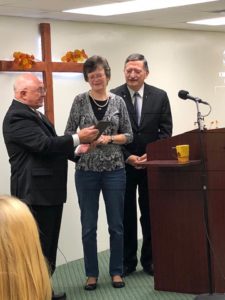 Though she had to leave gainful employment a while back due to cancer, Suzanne never stopped helping and serving the church and the community. Now cancer free, she dedicates 30 or more hours each week to serving the church and its associated counseling center.
Though Suzanne's example and service to the Lord has touched many lives in the congregation and the community, she has never asked for or expected acknowledgment or praise. For her, the privilege of serving the Lord is a sufficient reward. Suzanne's sterling character as a woman, mother, wife and servant of the Lord shines brightly as a testimony to God's grace and love. Congratulations Suzanne.