On September 20-23, GCI President, Dr. Greg Williams, joined Michael Rasmussen (Superintendent of North America and the Caribbean), Bill and Averil Hall (National Director of Canada) and Robert and Tanya McKinney (future Regional Director of the Caribbean) for their first Community of Practice (CoP) meeting. This was the first opportunity these individuals have had to gather together face to face to discuss the vision of GCI and how to best implement and share it with those they oversee. The meetings took place in Nassau, Bahamas, just three weeks after the category 5 Hurricane Dorian devastated the Abaco Islands and Grand Bahama Islands. Nassau experienced some high winds and some flooding but escaped the worst of the storm.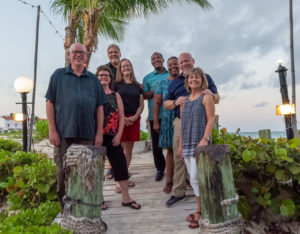 These meetings began on Friday morning with Dr. Williams giving a presentation on GCI's structure and vision. His presentation generated good flow and alignment for the rest of the meetings. Michael Rasmussen followed with a presentation on Team-Based / Pastor-Led and what it looks like for a congregation to be healthy with multiple layers of mentored leaders who are positioned and freed up to serve in various areas of ministry.
Bill Hall gave a report on how things are progressing within Canada and some of the challenges they are facing. Robert McKinney followed by sharing some of the challenges they face in the Caribbean, with congregations spread across numerous islands with different cultural backgrounds and where different languages are spoken. We discussed what we mean when we use terms like Healthy Pastors / Healthy Churches as well as the Faith, Love and Hope Venues. Time was provided for all participants to share and to dream about what God is doing within our denomination and to pray for one another as we join him in what he is already doing.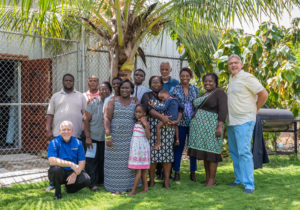 On Saturday, we all gathered for worship services. Due to the storms, there were regular power outages throughout Nassau. It was amazing to see the members adapt so quickly to the outage by moving the chairs and lectern near a glass door where light from the sun was shining in. The temperatures and humidity were extremely high, but the warm hearts and passionate attitudes of the members were even higher. It was wonderful to worship together with brothers and sisters from a different part of the world. We had the privilege of meeting some of our members who lived on Abaco and the Grand Bahamas who had survived the hurricane. All had lost their homes and earthly possessions, but they were still smiling and praising their Lord and Savior for sparing their lives. Their stories of God's deliverance were inspiring and hair raising at the same time. Lots of help will be needed in Abaco and the Grand Bahamas, and GCI is coming alongside our local leaders to help where the need is the greatest. I have no doubt, these joy-filled, faithful brothers and sisters will rebuild and will continue to live their lives to the fullest in order to be a light to their communities and bring glory to God.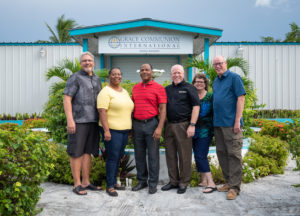 On Sunday morning, we once again gathered for worship, this time with no power outages. Greg Williams and Michael Rasmussen shared a sermon message and then commissioned Robert McKinney as the next Regional Director for the Caribbean. Greg Williams ordained Natania McKinney as an Elder. There was great rejoicing for what God is doing within our denomination.
On Monday we wrapped up our meetings with a time of reflection on what God has been doing and how we can be more strategic in joining him. We shared with one another some best practices our next steps in spreading the vision and the excitement of what God (Father, Son, and Holy Spirit) are doing within Grace Communion International.
In Christ,
Michael Rasmussen
---
Photos by Averil Hall/McPhedran Phocus