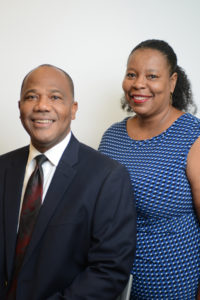 It is with great pleasure we welcome Robert McKinney and his wife Tania as our new Regional Director of the Caribbean. Robert has served in ministry for over three decades. He currently pastors two congregations in Nassau, Bahamas. He has also served as the National Director for the churches in the Bahamas for a quarter of a century.
My wife and I, along with President Greg Williams and his wife Susan, had the privilege of spending some time with Robert and Tania (along with their children) this past September. We were amazed that everywhere we went on the island people came up to Robert as if they were old friends. Robert kept telling us it is a "small" island. This may be true, but the evidence of Robert engaging the people of his island was inescapable. He is dedicated to loving the people in the neighborhood surrounding his church building and lives only a few blocks from where his congregations meet each week. It was encouraging to see how a parish pastor can impact his neighborhood.
Robert loves to perform weddings – to date, he has performed over 1,000 of them. This ministry has helped him to meet and interact with thousands of people across the island. When we were there, we ran into at least three random couples whom Robert had recently married. Robert also has a passion for young people. His passion and giftedness are so well known in the Bahamas the government appointed him to a Review Board that adjudicates court-related decisions that affect juvenile offenders. Again, the place where these decisions take place is not far from where his church meets each week.
Robert and Tania have three lovely children, one daughter-in-law and three grandchildren. While we were in the Bahamas, Greg and I had the honor of ordaining Tanya as an Elder. I am excited to see how God uses her many gifts and talents.
I am thrilled to work with Robert and to see him spread his wings as he joins Jesus in loving and leading our congregations in the Caribbean. Please join me in welcoming Robert and Tania to their new responsibilities!
With Deep Respect,
Michael D. Rasmussen
Superintendent of North America and the Caribbean