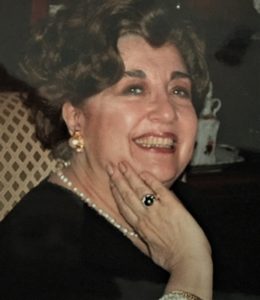 It is with great sadness that I announce the death of my loving wife of 54 years, Barbara Ruth Hogberg, which occurred on April 21, 2020, in Sachse, Texas. She was 79 years of age, and had been living in a nearby memory care facility, having suffered many months from Alzheimer's disease.
Because of coronavirus restrictions, only immediate family members were present at her funeral at Sachse Cemetery, at which longtime family friend and GCI minister, Thomas Pickett, officiated. Barbara and I had attended Mr. Pickett's New Hope Christian fellowship congregation for a number of years.
Barbara was born in Fort Worth, Texas, but grew up in Houston. After graduating from Bellaire High school, she attended what is now Sam Houston State University in Huntsville, graduating in 1962 with a Bachelor of Science degree in home economics, with a minor in art. Barbara had exceptional sewing and homemaking skills and had an excellent eye for paintings and fine decorations that later beautified all our homes.
In 1964 she moved to Pasadena, California, in order to attend classes at Ambassador College, the educational arm of the Worldwide Church of God (she, her mother, maternal grandparents and several other family members had become members of the church). There we got to know each other. I was the director of the News Bureau in the church's editorial department and Barbara became the office secretary in the fall of 1965. Our relationship blossomed and we were married on January 23, 1966. Two sons, Neal and Derek, rather quickly entered our lives in December 1966 and July 1968.
After the children grew up sufficiently, Barbara worked for a while as a much-in-demand substitute teacher in the Pasadena area. Then the two of us began to undertake numerous, often international, trips together, usually in conjunction with my editorial, and later, ministerial responsibilities. Barbara loved international travel, visiting over fifty countries and territories. She also enjoyed fellowshipping with the ministry and members in far-off lands. Our travels continued even after we settled down in Texas in 2007 to be with family.
Barbara was known and loved by many friends and members in Southern California, Texas, and around the world, who have testified in cards and emails to her warmth, effervescent personality, generosity and ability to light up a room whenever she entered.
In addition to our two sons, Barbara is survived by Neal's wife Denise, and our three grandchildren – Chloe, age 17, Brett, 15, and Grant, 9, and her favorite aunt who also lives in Sachse, Maisie Wheat, age 92, the last living member of the original Dallas congregation. Barbara is greatly missed by all of us.
Gene Hogberg, Retired Elder
Cards may be sent to:
Gene Hogberg
7619 Forest Ridge Trail
Sachse, TX 75048