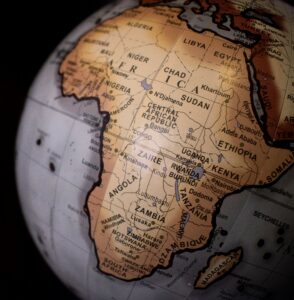 The congregation at Living Hope Christian Fellowship in Atlanta, Georgia truly celebrates Black History every year! We shine a spotlight on the rich heritage of Black people as Americans, as well as share what we learn about Africa, whose ancient name was Alkebulan, meaning "mother of mankind" or "garden of Eden."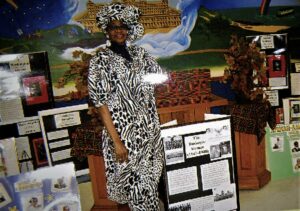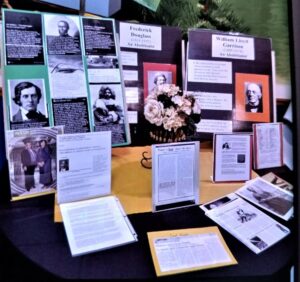 The documented accomplishments of African Americans since their arrival in North America during the 1500s, along with the more than 5,000-year history of the numerous civilizations of Africa, considered to be the oldest inhabited territory on Earth, is, admittedly, hard to truly celebrate in the shortest month of the year. However, we at Living Hope strive to tell the overlooked stories of notable African Americans who have made significant accomplishments in science, math, and technology, as well as poets, musicians, dancers, writers, inventors, and teachers.
We have displays, presentations, artifacts, and pictures of many of our local congregants and family members who are highly revered and accomplished citizens. We have praise dancers, who tell heart-felt stories through movement, and dramatic readings of pieces penned by famous authors. We also pay homage to many of our personal ancestors, who have been heroes and sheroes in their own right.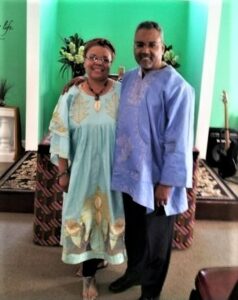 During February, members wear authentic, African-inspired clothing to services and sing "Negro spirituals" that continue to play a prominent part in our culture and music ministry. The sanctuary, decorated with touches of African objects and artifacts, ensures that our youth are aware of and understand not only our difficult legacy, but also how Africa has contributed to the history of the world and how African Americans have contributed to the history and economic progress of the United States.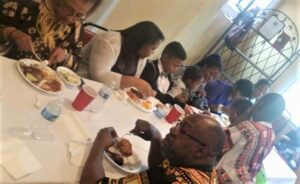 Another part of the month-long celebration is when the congregation gathers together for a potluck meal and members bring prized dishes of "food for the soul," cuisine originating in the South and traditionally eaten by African Americans. The cuisine is strongly influenced by the traditional practices of West Africans and Native Americans from its inception. Today, "soul food," synonymous with the cuisine of the American South, has become a celebrated aspect of mainstream American food culture, found in some of the most famous restaurants in the world.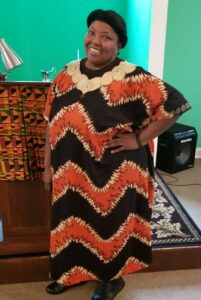 Finally, concluding each Sunday's service during Black History month, the congregation sings "Lift Every Voice and Sing," a deeply religious masterpiece by J. Rosamond Johnson and James Weldon Johnson, known as the "African American National Anthem." It was the rallying cry during the Civil Rights Movement of the 1950s and 1960s and the poignant lyrics speak of the yearnings of enslaved African Americans. Through the suffering and pain, the joy and hope, it speaks to the resilience and faith of a people who, much like the Israelites, believed and trusted that God would hear their prayers and lead them out of bondage to freedom. As was said during one of our Sunday sermons, "our stones tell a story."
Free at last, free at last! Thank God Almighty, we are free at last!
Amen, amen and amen!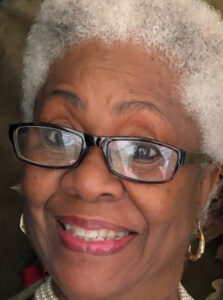 By Suzanne Smith-Wigfall
Love Avenue Champion & Treasurer,
Living Hope Christian Fellowship, Atlanta, GA