Dear GCI Family and Friends,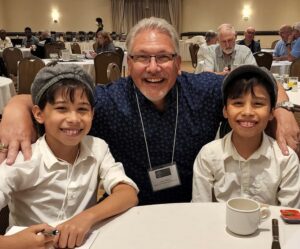 In early August, I was able to join Board Chair Dr. Randy Bloom and North America and Caribbean Superintendent Michael Rasmussen in a gathering with Canada National Director Bill Hall, and 120 conference attendees in Saskatoon, Saskatchewan. Due to COVID, this was the first gathering like this in four years. Hence, Bill titled the conference "Welcome Home."
The family reunion element was a big part of the celebration, and we were grateful to the hotel property to honor their rates from the original contract signed three years ago. We give thanks to our triune God.
Bill invited Christian music recording artist, Steve Bell, to share his music and his thoughts about the trinity and worship. Steve inspired the audience with his meaningful songs and stories, and he fit perfectly into helping us have deeper thoughts about worship through the Hope Avenue. I was especially pleased for how Steve immersed himself within the group, and how he reinforced our values for the Revised Common Lectionary and the annual worship calendar.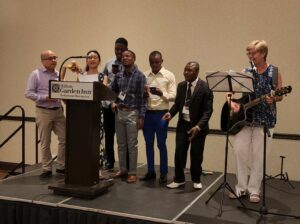 Early in the conference, I shared the "big rocks," or priorities of how our ministry is structured. Long before we move into the how and implementation, there is need for us to be crystal clear on the questions of who? Who we are? And the why? Hopefully, you have some answers in mind, but allow me to fill in these answers. The "who" is the triune God revealed to us in the person of Jesus. "Who we are?" includes believers and followers of Jesus, and as such we are fellow members of his church. I reminded the attendees that "We are Church People." It was music to my ears to hear them echo those words back to me. "Why?" is the mission of the church, expressed in our motto, "Living and Sharing the Gospel."
Mike Rasmussen picked up the training from this point and gave a wonderful thousand-foot view of the Faith, Hope, and Love Avenues, with a deeper dive on the Hope Avenue. Mike shared stories out of his past decades of pastoral ministry, and most recently what he has been learning as he participates in the church and Ministry Training Center in Surrey Hills, Oklahoma. It was amazing to observe the interaction of the pastors and ministry leaders as Mike fielded questions and comments. There was a spark of life, creativity, and hope in this mix of church people. Praise be to God!
Randy Bloom met with the Canadian Board of Directors. The board members are those "hidden figures" that offer their time, experience, and wisdom in support of the national director as he attends to the business and mission of the church. A major decision made in this meeting was to elect Gillian Houghton as the Board Chairperson for the coming year. Please keep her and the work of our Canadian church in your prayers.
On Sunday our conference group was joined by another 200+ attendees through a video link. I was humbled and privileged to be able to address just about half of our dear church members across Canada. I shared with them a message out of 1 Corinthians 3 about "Jesus Our True Foundation." Any enduring work that we will do in this life will only happen when we keep our eyes fixed on Jesus, when we participate by building with him, when we build on him and when the work is inspired and saturated by his love.
We join Jesus and our brothers and sisters in Canada as we go forward into the life of GCI. May God continue to bless our participation with him and his work in GCI Canada.
Greg Williams